Home Asia Pacific North Asia S/N Korea News & Issues


South Korean President-elect seeks reconciliation among religions
By Kang Hyun-kyung, The Korea Times, Jan 16, 2008
Seoul, South Korea -- President-elect Lee Myung-bak pledged Wednesday that he would help preserve Buddhist cultural heritage with policy measures during his presidential tenure.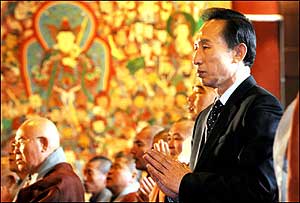 << Lee visits temple: President-elect Lee Myung-bak offers a prayer at a New Year's meeting organized by the Korea Buddhist Order Association at the Jogye Temple in Seoul, Wednesday. / Korea Times

Lee, an ardent Christian, also said he would make efforts to reduce tensions among religious leaders.

He made the remarks at a meeting with leaders of the Korea Buddhist Order Association in Seoul.

Stressing that social integration is as important as stimulating the economy, the incoming President said reconciliation among leaders from different religions will pave the way for the economy by uniting the public.

Buddhist leaders asked the President-elect to place policy priority on reducing social polarization and standards of living, after he takes office on Feb. 25.

Lauding these leaders' dedication to spread Korean Buddhism throughout the world during the last few decades, Lee said he would help Buddhist leaders preserve the cultural heritage through policy measures.

Preserving Buddhist cultural heritage is one of the core demands from these leaders and they have consistently requested the government to assist the Buddhist groups with supportive policies.

Some Buddhists expressed worries over the President-elect's allegedly biased religious views, pointing out that Lee appointed Lee Kyung-sook, chairwoman of the presidential transition team, and other figures who attend the same church as Lee to key posts.

Some Buddhists opposed Lee's inland canal project, claiming that the project, which is to use up massive amounts of land, would have a detrimental effect on Buddhist cultural heritage sites nationwide.

Experts said the President-elect's comments were designed to calm down Buddhists who have expressed discontent over his allegedly biased religious views.