Home Asia Pacific North Asia S/N Korea News & Issues


Police pressuring Buddhists to stay away from rally
The Hankyoreh, Aug 25, 2008
Local governments also involved in efforts to block protest against Lee administration's religious bias
Seoul, South Korea -- With a pan-Buddhist rally to protest the religious bias of the Lee Myung-bak administration set to convene on Wednesday, police and the local government are putting heavy pressure on major temples and monks to refrain from participating.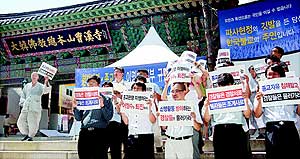 << "Go down" Some buddhists demonstrated against Korea National Police Agency commissioner Eo Cheong-soo at jogye temple.

The organizers of the rally warned that if the maneuvers against Buddhism were not stopped, it would mobilize all means to force responsibility upon the individuals involved.

Based on what the organizers and police said Sunday, Buyeo police chief Oh Eun-su invited five monks who were tending to local police to the police station on August 20 and made a statement to the effect that if a major rally were to convene in Seoul, it would block up traffic and young people might do radical things.

Oh also asked for the monks' understanding. One participant said the chief told the monks that Korea National Police Agency commissioner Eo Cheong-soo was a graduate of Dongguk University, a Buddhist university, and his entire family was Buddhist, so he was not the kind of person to foster a religious bias in order to repress Buddhism.

Rally organizers said that in Incheon, the head of a local police department recently visited an area temple to coax the monks into staying home from the rally, saying that Commissioner Eo was doing a good job, and that in Yanggu, Gangwon Province, police visited the residence of some Buddhist nuns to ask them not to participate. They also said that not only police, but also local governments like Yeoju-gun in Gyeonggi Province recently called up local temples to look into cars and monks being mobilized for the rally.

Yun Nam-jin, the secretarial head of one Buddhist civic group, said police chiefs around the country were being mobilized to call in influential abbot monks to openly coax them against participating in the rally. He said that when local police make a move, monks at regional temples cannot help but feel pressure.

Venerable Jinhwa, the monk who chairs the standing executive committee organizing the rally, said national and local police and civil servants were continuing maneuvers to block monks from participating in the rally, and if [the police] did not stop, they would mobilize all means to force responsibility onto the relevant individuals.

About this, one police official said police do not have the power to coax monks into staying home from the rally. He said he understood the meetings were to set straight incorrect stories concerning the recent search of the car of Jogye Order chief executive Venerable Jigwan.