Home Asia Pacific North Asia S/N Korea News & Issues


South Korean President Lee apologises to South Korean Buddhists over alleged bias
AFP/ir, September 9, 2008
SEOUL, South Korea -- South Korea's President Lee Myung-Bak apologised Tuesday to the nation's Buddhists following nationwide protests against alleged religious bias by his administration.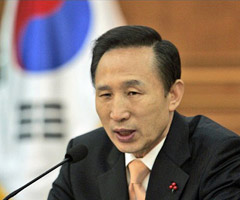 << South Korean President Lee Myung-Bak

Lee, a Christian, was speaking at a Cabinet meeting, which approved regulations banning religious discrimination by public servants.

"It is deeply regrettable that some government officials offended the Buddhist community -- even if they did not not mean to -- with such words and behaviour as could cause misunderstanding about a religious bias," he said.

Leaders of the country's 10 million Buddhists -- outnumbered by 13.7 million Christians -- had threatened more mass protests unless Lee apologised.

The Buddhist dispute, rare in a country that guarantees freedom of religion, follows months of street rallies against US beef imports, which rocked Lee's administration.

Buddhists have been uneasy over what they see as a Christian bias since Lee, a Presbyterian Church elder, came to power on February 25.

The largest Order, the Jogye, lists on its website 23 cases of alleged favouritism, including the appointments of Protestants to major government posts.

An online map published by two ministries, showing Seoul's churches but not major Buddhist temples, also sparked anger.

Tensions grew in July when police stopped a car carrying Jigwan, the Jogye Order's head monk, outside the temple and searched the boot.

Police were then searching for illegal anti-US rally organisers who had taken refuge in the Jogyesa temple.

Tens of thousands of Buddhists staged a massive rally in Seoul in late August, demanding that the police chief be sacked, and Lee apologise and enact a law to ban religious discrimination.

Police chief Eo Cheong-Soo, who is Christian, has apologised and disciplined two senior officers.

Lee told Cabinet ministers on Tuesday to ensure officials stay neutral in religious matters but did not address the demands to sack Eo.

However, he instructed the police chief to visit the Jogyesa temple to apologise to the head monk.

"Regardless of the motives behind the search, the police chief has to visit Buddhist leaders and offer an apology. He must also promise to prevent the recurrence of similar incidents," he said.

The president was expected to reiterate his determination to maintain religious neutrality during a 100-minute "town hall" meeting starting at 10pm (1300 GMT) and to be televised live.