Home Asia Pacific North Asia S/N Korea News & Issues


Korean President Lee struggling to regain public trust
By LEE JONG-HEON, UPI, September 9, 2008
Seoul, South Korea -- South Korea's embattled President Lee Myung-bak is struggling to win back public confidence with a combination of an apology for his alleged religious bias and pledges of an economic rebound.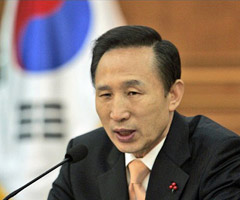 << South Korea's President Lee Myung-Bak

Lee offered an apology to the country's Buddhists on Tuesday following their unprecedented mass protests over alleged religious discrimination by the Christian president.

"It is deeply regrettable that the heart of the Buddhist society was hurt by words and deeds by some officials which could cause misunderstanding though they seem not intentional," Lee said, presiding over a Cabinet meeting.

His Cabinet approved a revision of the civil servant code to prohibit government employees from discriminating against any specific religion when carrying out their duties. The moves came as Buddhists have been angered by what they perceive as pro-Christian bias by the government led by Lee, a devout Christian and elder at a local church.

Hundreds of thousands of Buddhist monks and followers took to the streets in central Seoul last month to protest against the alleged pro-Christian bias. Angry Buddhists, who also held protest services at their temples throughout the country last week, warned they would intensify their protests unless Lee offers an apology and stops his alleged policy based on pro-Christian bias.

Buddhists blamed Lee for filling many of his Cabinet and top presidential posts with his Christian colleagues and making pro-Christian remarks in political events. They say up to 70 percent of high-ranking officials under the Lee government are Christians even though Buddhists are the largest religious group in the country, making up about 23 percent of the population, followed by Protestants and Catholics.

Buddhists' anger was fueled in July when the transportation ministry dropped Buddhist temples from electronic maps of the public transit system and a photo of the head of the national police agency posing with a pastor appeared at a Christian event, which monks say reflected the government's religious bias.

Buddhist's anger further heightened as police inspected the car of the head of the Jogye Order, the largest Buddhist sect, as he left the Jogye Temple which harbors several civic activists on the list of wanted people for their illegal roles in the months-long street rallies against U.S. beef imports.

Buddhists accused police of treating the head monk like a criminal and called for the resignation of the police chief. At the Cabinet meeting, Lee called for the police chief to visit the temple to offer an apology to soothe the Buddhists' anger.

The protest by Buddhists was the latest setback for Lee's administration, plagued by months of protest against his decision to resume U.S. beef imports despite public concerns about mad cow disease.

With street protests taking place almost every day for months, including the biggest anti-government protests in two decades, his popularity plunged to a record low as a new president. The protests forced Lee to apologize twice in a month for raising public concern about the safety of U.S. beef, reshuffling the Cabinet and presidential office in a move to make "a new start."

But his popularity, which was over 70 percent when he took office, still remains under 30 percent as the economy is sliding and inflation is mounting, partly caused by the government's flip-flop policies.

Jitters about the health of Asia's fourth-biggest economy were mounting this month as financial markets tumbled over fears of a capital flight, which triggered talk of another financial crisis. South Korea was compelled to go to the International Monetary Fund in December 1997 for a record US$58 billion bailout to avoid a national debt default.

In a bid to address public concerns about financial turmoil, Lee arranged a "town hall" meeting with 100 citizens on Tuesday night, in which he ruled out any financial crisis in the country.

"There would never be an economic meltdown (in the country). The current circumstances are completely different from those of the previous financial crisis (in 1997)," Lee told the "100-minute dialogue with citizens," which was nationally televised live.

"There are some difficulties in our economy, but I am firmly convinced that we can overcome the difficulties," he said.

But Lee's future seems not so bright as Buddhists say his apology is not enough, vowing to go ahead with planned nationwide protests later this month amid lingering concerns about the country's economy, vulnerable to external risks such as a slowdown of the global economy and rises in crude oil prices.