Home Asia Pacific North Asia S/N Korea News & Issues


Korean Govt in Fix Over Revered Nun's Hunger Strike
Digital Chosun, Feb 3, 2005
Seoul, South Korea -- It was a day when people from all sections of Korean society urgently pleaded for a life. The plea crossed the boundaries between sacred and profane and bridged the divide between religions.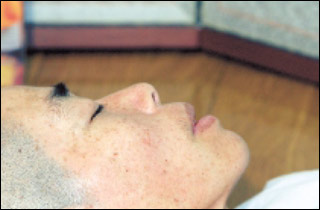 << Nun Jiyul's hunger strike now into its 100th day
The hunger strike of prominent Buddhist nun Ji-yul, to have lasted for 100 days come Thursday in protest against a planned bullet train tunnel through Mount Cheonseong, highlights that life is still sacred to many in a new, harsher Korea. On the other hand, government and development-minded individuals are unwilling to relinquish a national project in which a lot of money, personnel and talent have been invested.
At issue is a tunnel, to be built through Mount Cheonseong in Yangsan, South Gyeongsang Province and Busan's Mount Geumjeong that would form part of a 118.3 km stretch of track between Daegu and Busan, the second stage of Korea's bullet train project. The Korea Rail Network Authority had planned to start using the 13.2 km Wonhyo Tunnel through Mount Cheonseong in 2009. But since 2001, religious and environmental groups have been demanding the line be changed, citing environmental damage to the mountain.
The fasting nun?s final demand is a three-month suspension of demolition work and a fresh environmental impact study. But the government is adamant it will not halt work, arguing that a retreat on the issue would encourage protests against other mega-projects. However, it has agreed to another environmental impact study.
On Wednesday morning, the Venerable Beopjang, president of the Jogye Order of Korean Buddhism, paid Ji-yul a visit. "Your issue is one of both Mount Cheongseong and life itself, and our order will embrace it,? he told her. ?Let's do this together." The nun was still conscious but did not answer the Ven. Beopjang. Instead, she handed the monk a letter thanking the Jogye Order for its interest and saying all she wanted was for the order to look after Mount Cheongseong and the karma of all with a loving heart.
Cardinal Stephen Kim Sou-whan, who also visited the Jeongto Society where Ji-yul is being looked after, was unable to meet her directly but told the Ven. Pomnyun of the society, "The environmental movement is supposed to be about saving lives, so is it acceptable to put one's own life in peril? We must first save her life. Afterwards, let's approach the environmental issue with a cool head."
Clergymen of the Buddhist, Catholic and other faiths held a press conference at Seoul's Jogye Temple on Wednesday. In his appeal, the chairman of the Association of Catholic Priests for the Realization of Justice, Park Sun-hee, begged the nun to end her hunger strike. "Ji-yul, please rebuke us for our insufficient prayers. Come back to us so that we may work together,? Pak told the nun, and urged the government to ?open its heart? to an appeal for a life.
The government is also considering a visit by Prime Minister Lee Hae-chan, but nobody knows if that will take place.
Some lawmakers from the Grand National and Democratic Labor Parties plan a resolution calling for fresh environmental impact studies. With groups like the Korean Teachers' Union and cultural figures also moving in the direction of a "Save Ji-yul" campaign, the government finds itself in an increasingly tight spot.