Home Asia Pacific North Asia S/N Korea News & Issues


Buddhist nun ends 100-day hunger strike to save salamanders
The Star (AP), February 04, 2005
SEOUL, South Korea -- A Buddhist nun ended her 100-day hunger strike after the South Korean government promised to study whether a tunnel project would threaten an endangered spices of salamanders.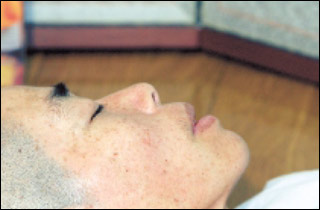 Nun Jiyul stopped fasting late Thursday, 100 days after she went on a hunger strike to protest the government's construction of a tunnel through Mount Cheongseong, near Busan, South Korea's second-largest city, on the country's southeast coast.
In the past week, her condition gripped national attention, with thousands of activists holding candlelight vigils around the country.
After a hurried meeting of related Cabinet ministers, the government proposed late Thursday that it would conduct a study on the environmental impact of the tunnel construction jointly with civic groups.
The construction may be suspended, if necessary, to help facilitate the study, it said.
Jiyul and other environmentalists argue the tunnel, now under construction, will harm 30 endangered species, including Korean clawed salamanders.
The tunnel is part of a multibillion-dollar (euro) high-speed train line the government is building between Seoul and Busan.