Home Asia Pacific North Asia S/N Korea News & Issues


'Samboilbae' (3 steps, 1 bow) on carriageway not unlawful
by Song Sang-ho, The Korea Herald, July 28, 2009
Seoul, South Korea -- The Supreme Court ruled "samboilbae" - a Buddhist way of wishing for something by repeating the process of taking three steps, kneeling and bowing - on the carriageway is not in breach of the traffic law, overturning a lower court's ruling, officials said Monday.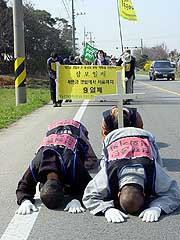 The top court sent the case to the Seoul Central District Court for a retrial.
Seven members of a construction workers' union were indicted for charges, including disturbing traffic, after they occupied two lanes of a road in downtown Seoul and performed samboilbae as part of a labor protest in May 2005.
"Samboilbae could cause long inconvenience as it proceeds slowly. But it cannot be seen as an act that gives a feeling of disgust to others or contains any violent nature. It is one way of protest and is not outside the domain of freedom of expression," said the court in its ruling.
"The method of the protest, samboilbae, is acceptable in light of conventional wisdom, and cannot be seen as unlawful as it does not go against established social rules."
The district and appeals courts gave each of them a fine of 500,000 won ($402) for violating the laws on assembly and demonstration, and on road traffic.
In July last year, the top court overturned the lower court's ruling, saying that they did not violate the law on the assembly and demonstration law. The lower court deliberated on the case again and gave each a fine of 200,000 won for violating the road traffic law.