Home Personality


Passing of a Zen icon
The Buddhist Channel, Dec 2, 2004
Seoul, South Korea -- One of the great Zen Master of modern day, Seung Sahn Sunim passed away peacefully into nirvana at 5.15 p.m. on November 30, 2004 at the age of seventy-seven. He spent his last moments in his room at Hwa Gye Sa temple and was surrounded by his students. The news of his passing was reported on Korean national television and newspapers.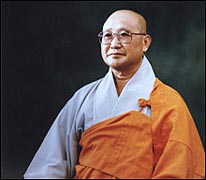 Zen Master Seung Sahn?s body was taken to Sudoksa temple near Yesan in Chungnam province this afternoon where it will lie until the funeral ceremony and cremation at 10.30 a .m. on Saturday 4th December.
Sudoksa (photo, below) was the home of his grand-teacher, Mang Gong Sunim, another famous Korean Zen Master. Thousands of Buddhist devotees are expected to pay their respects over the next few days and attend the master's funeral this Saturday.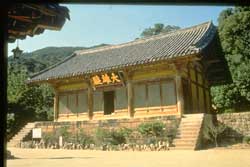 Many of the monks and nuns have been keeping a twenty-four hour vigil since December 1st and will continue to do this at Sudoksa. A number of devotees from Kwan Um School of Zen family have arrived and will continue to arrive from abroad.
While many Korean as well as foreign devotees are still coming to terms with the deep loss of this respected Dharma teacher, the Zen community will always be eternally grateful for the gift of his life and his great teaching.
Please read: Biography - Seung Sahn Sunim