Home Personality


Cher a Buddhist 'who should always be in after-school detention'
By Robin Leach, June 9, 2010
Las Vegas, USA -- Superstar entertainer Cher has said she is now a Buddhist, but added with characteristic self-deprecation, "who should always be in after-school detention."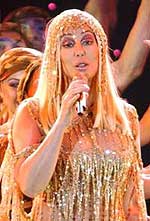 In an interview with Architectural Digest, the record-breaking Caesars Palace headliner shows off her spectacular 4,000 square-foot, two-floor "apartment" perched high above L.A. The magazine describes it as an irrepressible mix of spirituality and spunk.
"My houses," Cher muses, "are passions." They also are decorative barometers of the state of her never-boring, ever-expanding consciousness.
"I've played around with Buddhism for years," continues the actress, a devotee of the American Buddhist nun Pema Chodron. "The soul of the universe, everything that I need, I can find in its practice." Cher turned to friend and interior designer Martyn Lawrence-Bullard to help her conjure "something ethnic, spicy and romantic" in creams, ivories, whites and buttery beiges.
"Though I loved collecting Gothic and can spend hours drawing with every shade of Pantone pen, I prefer a neutral palette, especially in my bedrooms, because the colors are so easy to live with."