Home Asia Pacific North Asia S/N Korea Arts & Culture


Lantern festival to light up world for harmony
By Chung Ah-young, The Korea Times, May 5, 2011
Seoul, South Korea -- Making and hanging lotus lanterns is one of the oldest Buddhist traditions, which continues until today. Yeondeunghoe is a traditional Korean folk festival that goes back to the Silla Kingdom (B.C. 57-935 A.D.). It was inherited as the Lotus Lantern Assembly in Goryeo Kingdom (918-1392) and continued as the Lantern Celebration (Gwandeung-nori) during the Joseon Kingdom (1392-1910).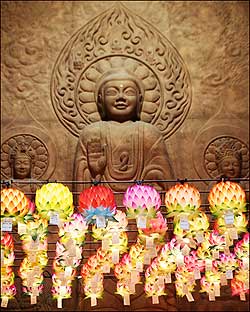 << Colorful lotus lanterns hang at Jogye Temple to celebrate Buddha's Birthday, which falls on May 10. / Korea Times

For the welfare of the community and fulfillment of personal wishes, the Lotus Lantern Festival will be held May 6-8 just ahead of Buddha's Birthday which falls on May 10 this year. Buddha's Birthday is the biggest day of the year as Buddhists celebrate by attending the Buddha's Birthday Dharma Service at temples.

More than 100,000 colorful lanterns in various shapes such as dragons, elephants, phoenixes, drums, turtles and lotuses decorate the main streets nationwide along with diverse programs and activities.

The lanterns are symbols of light, wisdom and compassion that dispel the dark and suffering of the world. Through the lotus lanterns, the dark become bright as Buddhists believe that the light brings enlightenment to those who are in pain and are lost.

Unlike previous years, this year the Lantern Parade, the highlight of the festival, which begins at Dongdaemun and ends at Jogye Temple, will take place on Saturday instead of Sunday. The Buddhist Street Festival in which more than 100 booths are to be set up for traditional cultural experiences, performances, and activities for families and couples, foreigners and Koreans alike, will be held on Sunday.

"The festival is getting bigger and bigger every year. The festival is not just for Buddhists but also for all people regardless of nationality, generation and religion. The event aims to offer a venue for people to get along with each other in harmony," Ven. Hyundam, a chief director of the Department of General Affairs at the Celebration Committee for Buddha's Birthday, told The Korea Times.

"Also, more and more foreigners are getting interested in our festival. This year, some 1,000 foreigners will participate in the street festival and performances. We've promoted the program for foreigners by distributing leaflets written in six languages around the nation. It is becoming an international festival embracing various nationalities and religions," he said.

Ven. Hyundam said that in the past, the festival was held on a regional basis. "Nowadays it is becoming more organized through intimate networks," he said.

A variety of lanterns manufactured by the temples nationwide will boast their unique characteristics and symbols of the regional temples. Giant lanterns in diverse shapes such as a pagoda in Gyeongcheon Temple, a sister and brother in the fairytale "Legend of the Sun and Moon" and Seokgatap (Sakyamuni Pagoda), a stone pagoda, are not to be missed. The Seokgatap lantern at 18 meters in height is installed at Seoul Plaza in front of City Hall. Also, some 600 eight-sided lanterns and traditional ones are installed along the Cheonggye Stream.

To help spectators better enjoy the festival, the committee will set up chairs along the streets in Jongno when the Lantern Parade takes place on Saturday.

"The festival is open to all people. All people, whether they are Buddhists or not, are allowed to enjoy the festival with great joy. The festival is for harmony among people," the monk said.

Events for foreigners

The Special Film Screening will be newly offered for this year's festival as part of the efforts to extend the programs for foreigners. It will take place on the third floor of the Templestay building across Jogye Temple in Anguk-dong. On Sunday, the program will provide the film screenings in English on traditional Korean treasures such as Tripitaka Koreana, Goryeo Buddhist paintings, the Lotus Lantern Festival, Seokkuram Grotto and the Sarira Reliquary of Gameun Temple. The Celebration Committee for Buddha's Birthday will provide some 40,000 free tickets which are available at information centers in Insa-dong and Bukchon.

The lantern making event, which will take place on Sunday is one of the most popular programs among foreigners. Those who have not preregistered can participate in making small lanterns. Foreigners cheerfully paste petals on the eight-sided lotus-shaped frame to produce their very own lantern.

Events at a glance
Exhibition of traditional lanterns - Each traditional lantern tells a story behind the magnificently handcrafted piece from May 6 to 10 at Bongeun Temple.
Eowulrim Madang (Buddhist cheer rally) - All of the festival performers, arrayed in their traditional Korean costumes (hanbok), rally together to laugh and dance in preparation for the Lotus Lantern Parade at 4:30-6 p.m. on May 7 at Dongguk University Stadium.
Lantern parade - A brilliant ocean of lights from numerous handheld lanterns and the giant lantern floats in the festival's main event at 7-9:30 p.m. on May 7 from Dongdaemun to Jogye Temple, along Jongno Street.
Hoehyang Hanmadang (Post-parade celebration) - Participants dance hand in hand to performances at 9:30-11 p.m. on May 7 at Jonggak Intersection.
Buddhist street festival - Make lotus lanterns, create Buddhist artworks, experience Buddhist cultures of Thailand, Tibet, Mongolia and try temple food, play folk games at 12-7 p.m. on May 8 at the street in front of Jogye Temple.
Stage performances - Traditional Korean folk performers, lotus lantern performance groups, and international Buddhist communities take part in street events at 12-7 p.m. on May 8 at the performance stage on the street in front of Jogye Temple.
Yeondeungnori (Final celebration) - The final party of the festival features singing and dancing by the lotus lantern performance groups at 7-9 p.m. on May 8 in Insa-dong to the street in front of Jogye Temple.
For more information visit www.llf.or.kr or call (02) 2011-1744-7.