Home Asia Pacific North Asia S/N Korea Arts & Culture


2012 Indian Film Festival in Korea
by Emi Hayakawa, BTN, Feb 26, 2012
Seoul, South Korea -- The Hannarae Culture Foundation opened the "2012 Indian Film Festival" to promote Korean traditional culture to foreigners in Korea.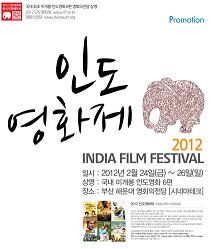 The Indian Film Festival will be opened in Busan Cinema Center from February 24th to the 26th and will showcase six Indian films that have not yet opened in Korea free of charge.
This film festival will continue in Seoul at the Seoul CGV movie collage center from March 1st till March 6th.
The Hannarae Culture Foundation showcased the Indian film, "I am Kalam" on the opening event on February 16th to express the Korean-Indian friendship.
The director of Hannarae Culture Foundation, the head priest of Heongbeobsa temple, Venerable ShimSan, stated, "I hope that through this film festival, the Korean-Indian cultural exchange will continue to grow."
More info please visit: http://www.dureraum.org/bcc/main/main.do?rbsIdx=1