Home Asia Pacific North Asia S/N Korea Arts & Culture


Buddha's Birthday
By Jeffrey Miller, Korea Times Columnist, May 10, 2005
Seoul, South Korea -- Almost anywhere you go in Korea these days you are likely to see brightly colored lanterns festooning streets and neighborhoods and other areas where a Buddhist temple is located in anticipation of Buddha's Birthday.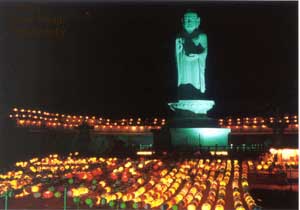 Of all the holidays and celebrations in Korea, none are perhaps more colorful and festive than Buddha's Birthday which falls on May 15th this year. Whether you are Buddhist or not, the holiday is a wonderful opportunity to experience a bit of Korean culture for a different kind of path to enlightenment.
Ever since coming to Korea over 15 years ago, I look forward to Buddha's Birthday every year here in Seoul. It's really beautiful to see all these colorful lanterns hanging everywhere around the city, especially in some of the more traditional areas in the city like around Chogye-sa Temple or Bongeun-sa Temple near the COEX Center. Even on some of the lesser-traveled paths around the city, you will find the neighborhoods colorfully decorated with lanterns.
Of course, if you are really into celebrating Buddha's Birthday, there's probably no better place to be than on the streets around Chogye-sa Temple in Chongno when the annual Lantern Parade is held prior to the holiday. It's really impressive to watch or be a part of this river of lanterns slowly moving through the city.
To be sure, Buddha's Birthday is one of the few holidays and festivals in Korea that foreign residents and visitors can either participate in _ from making paper lanterns at Bongeun-sa Temple or even joining in the parade through the streets of Seoul or enjoying the festivities around Chogye-sa Temple. In recent years the festival has grown considerably and it has definitely become one of the ``must see'' festivals in Korea if you are here around this time of the year.
In recent years, the celebration has taken on a more international feel in Seoul with a variety of cultural events held around the holiday including music and dance exhibitions as well as a food fair. Although Chogye-sa is currently being renovated, there is plenty of Buddhist culture to experience in the surrounding neighborhoods.
It's nice to see the international community taking part in the celebration in more ways than one.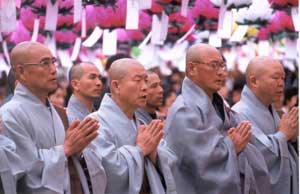 Living in Asia for the past 16 years, I have been fascinated with Buddhism for a variety of reasons. Even before I made the decision to live and work in Japan and then later Korea, I had already become interested in Buddhism for purely literary reasons as a graduate student immersing myself into the works of Gary Snyder and other poets who had tapped into Oriental philosophy. I was intrigued with Eastern philosophy whether it was its basic precepts or sensory underpinnings that found their way into literary works.
I wouldn't be surprised that many Western expats who end up in Asia at one time or another have also been just as intrigued and interested in Buddhism.
To be sure, when I came to Asia - first Japan and then later Korea and Thailand - I became even more interested and fully embraced Buddhism on my own path to enlightenment. While never intending to give up my Christian upbringing, I found myself growing more and more fascinated with Buddhism and its cultural heritage in Asia. Over the years I've read up as much as I could on Buddhism, participated in various ceremonies, and even tried meditating just to understand more about its significance - both in every day life as well as it's historical and cultural heritage.
Some of my fondest memories and endearing images of living and traveling around Asia are associated with Buddhism. From the tranquility of rock gardens at temples in Kyoto in autumn, the Sokkuram Buddha with its peaceful expression on its granite face in Kyongju, or saffron-robed monks slowly walking down a road in a small village in northern Thailand early in the morning, these images have formed the critical mass of my path to enlightenment.
Likewise, a visit to most any Buddhist temple is a sensory experience that is hard to forget - whether it's the mesmerizing sound of monks chanting, the sweet, earthy smell of incense burning, or the cool, dark interior of a temple on a hot, summer day.
If you've hadn't had the chance to experience Korea's Buddhist heritage yet, Buddha's Birthday is a good start. No matter if you only want to paint a lantern and march in a parade, join others in the celebration, or if you seek a much deeper understanding of what Buddhism has to offer, Buddha's Birthday is one celebration in Korea you don't want to pass up.
On the other hand, it's not like you have to wait once a year for Buddha's Birthday to enjoy this part of Korean culture. Get out and explore some of the beautiful temples around the country. While most foreign visitors know about some of the more famous temples like Bulguk-sa in Kyongju, there are countless temples in other cities and provinces waiting to be explored.
While it might seem to most outsiders that most Buddhist temples look the same, each one has its own unique history, not to mention various legends and myths. Besides, what better way to experience some of the country by hiking up a mountain to explore one of these temples? Then there's always a temple stay which is one of the best ways to learn more about Buddhism and its unique place in Korean culture.
Whether you plan on participating in any of the Buddha's Birthday festivities this year, or visit any of the country's more famous temples, you are in for a real cultural treat. Who knows, you just might find yourself walking down your own path to cultural enlightenment and wanting to learn more about Korea's Buddhist heritage.