Home Asia Pacific North Asia S/N Korea Arts & Culture


Chogye Buddhist Order Opens English Web Site
By Kim Ki-tae, The Korea Times, Feb 7, 2006
Seoul, South Korea -- Chogye Order of Korean Buddhism, the nation's biggest Buddhist order, has opened an English homepage (www.koreanbuddhism.net) with a comprehensive introduction to the nation's Son (Zen) tradition that stretches back thousands of years.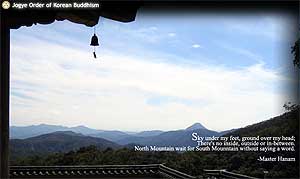 << English Web site of the Chogye Order of Korean Buddhism

The site contains a full-length translation of Zen meditation (kanhwason) practice and introductions to Korean Buddhism and its spiritual leaders from the Rev. Won Hyo (617-686) to the Rev. Seung Sahn (1927-2004).

It also plans to serialize contributions by Buddhist leaders including the Rev. Ji Kwan, the sect's incumbent executive director of administration, and the Rev. Beop Jeong. Foreign Buddhist writers like Martin Batchelor also contributed their writings to the site. In addition, the homepage provides audio services of Buddhist chants and a video introduction of Zen meditation. Visitors can also get information on Buddhist temples and temple stays around the nation through the homepage. Other content includes cartoons, photos and blog services.

``This is the biggest Internet site on Korean Buddhism, as well as Zen meditation practice (kanhwason),'' Nam Won-keun, content manager of the site said. ``We expect the site to serve as a portal for Korean Buddhism overseas.''

``Korean Buddhism has been relatively less known even if it has preserved the Zen meditation tradition well. And we know that there are certain demands around the world for teachings from Korea,'' Nam said.

It took around eight months for the Chogye Order to set up the site. Around 30 Korean and foreign experts on Korean Buddhism, including Professor John Jorgensen of Griffith University in Australia, helped in the translation of works.

The order plans to hold an opening ceremony for the site at its main temple, Chogyesa Temple in central Seoul, today. Japanese and Chinese language services will be offered at the site by the end of this month.

However, the site contains a few errors, especially in the romanization of names of Buddhist leaders. As of 11 a.m. on Monday, it misspelled the name of the Order's top administrator. It is misspelled Jigwan. It should be the Rev. Ji Kwan. (Concerning the space, capitalization and religious title, the site has a different guideline from The Korea Times.) The site also posts a late spiritual leader as Seongcheol on one page, but on another, his name is changed to Songchol. When asked about the errors, Nam said they would be taken care of.

``We will correct the misspellings or inconstant spellings as soon as possible,'' Nam told The Korea Times.

Korean Buddhist News from BTN (Korean Language)

---

---






Please help keep the Buddhist Channel going

Point your feed reader to this location