Home Asia Pacific North Asia S/N Korea Arts & Culture


Expats Enliven Lotus Lantern Parade
By Tony MacGregor, Korea Times, May 22, 2007
Seoul, South Korea -- About 50 foreigners, Buddhist monks and lay people who attend Hwagyesa Temple in Seoul, received an especially warm welcome from the thousands of Koreans who lined the streets of the Lotus Lantern parade route on Sunday.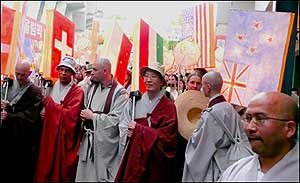 << Foreign and Korean members of Hwagyesa Temple in Seoul prepare to join in the Lantern Parade Sunday in downtown Seoul as part of celebrations for Buddha's birthday.

Carrying lanterns depicting the flags of a dozen countries, the foreign monks waved at the spectators, many dressed in colorful costumes, who danced and clapped in the streets, creating an almost West Indian carnival atmosphere as the parade streamed from Dongdaemun Stadium along Jongno street to Jogyesa Temple in Insa-dong.

Brightly-lit floats depicting the birth and childhood of Buddha along with over 10,000 individual lanterns and the booming broadcasts of Buddhist chants transformed for a moment the city's usually busy streets into a place of spiritual festivity.

Food was available on the grounds of Jogyesa where drumming and dancing took place in courtyards festooned with colorful lanterns. Many foreigners participated.

The Lotus Lantern festival is the biggest annual Buddhist event in Seoul. It is based on a story of the celebration of one of the Buddha's birthdays while he was alive.

During the birthday celebration, great kings and leaders vied with one another to give the Buddha the most impressive birthday present. They presented him with elephants, treasure chests and all manner of exotic and expensive gifts.

One old lady had nothing to give so she made a lantern and gave it to the Buddha in all sincerity.

The night before the Buddha's birthday, a great storm swept through the region. The elephants ran away and all the rich gifts were destroyed. The only thing that remained was the old lady's lantern that still burned brightly.