Home Asia Pacific North Asia S/N Korea Arts & Culture


Silk Mountain, King Mountain
By Shim Hyun-chul, The Korea Times, April 3, 2008
Sangju-myeon, South Korea -- The endless horizon stretches out before your eyes and the strange looking rocks surrounding the area come in various shapes and sizes. It almost looks like the little rocks will trickle down to the sea any time soon.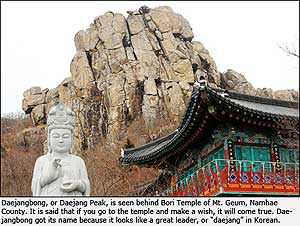 Mt. Geum, or Geumsan, stands 701 meters above sea level and is located in Sangju-myeon, Namhae County in South Gyeongsang Province. It is the only mountain range in the Hanlyeosudo National Park and is covered with peculiar looking rocks. Visitors can view the ocean and also many small islands from the top of Mt. Geum, which is connected to Mt. Jiri. The mountain was designated as monument No.18 of South Gyeongsang Province in December 1974.
Mt. Geum was once called Mt. Bogwang because on it the Buddhist monk Wonhyo built a temple called Bogwang in A.D. 686, in the third year of the reign of King Sinmun during the Silla Kingdom.
The name was changed to Mt. Geum, which literally means ``silk mountain'' in Chinese characters, when Yi Seong-gye - or King Taejo of the Joseon Dynasty, granted the name after praying for 100 days and becoming king. Bogwang Temple also became Bori Temple.
The Jwaseondae, also known as the ``seat rock,'' is the 20th among the 38 minor peaks of Mt. Geum and is famous as the location for meditation for three renowned Buddhist monks, Wonhyo, Uisang and Yunpil of the Silla Kingdom. Visitors can learn about the legends and history of the mountain peaks from an environment expert by participating in an exploration program. Also available is an environment observation program, which will be a great educational experience for children.
To participate, visit http://hallyeo.knps.or.kr or call (055) 863-3521 and make a reservation beforehand.
The shuttle bus will make it easier for visitors to reach Bori Temple. The temple is a famous location that many visit during New Year's Eve to watch the sunrise with the beautiful landscape as the backdrop.