Home Asia Pacific North Asia S/N Korea Arts & Culture


Ven. Jibeom to Hold Exhibit on Buddhist Pilgrimage Sites
By Han Sang-hee, The Korea Times, Apr 26. 2010
Seoul, South Korea -- Ven. Jibeom, better known as ``the singing monk,'' is holding a photo exhibition to share the Buddhist faith and also to make the religion more accessible to the public.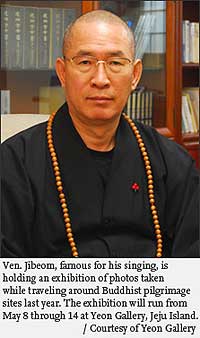 "I wanted to offer the fascination of Buddha's great work through photos, instead of paintings and portraits,'' Ven. Jibeom said through a press release.
The exhibition also plans to celebrate Buddha's Birthday, which falls on the eighth day of the fourth lunar month, which is May 21 this year.
More than 40 works will be on display. All of the works were taken by Ven. Jibeom himself during his trip from Dec. 25 last year to Jan. 9. He paid visits to Lumbini, Nepal, the birthplace of Buddha; the Kushinara monastery, where Buddha died; and other important Buddhist pilgrimage sites.
``Any Buddhist would hope to travel these sacred sites, and after my journeys I wanted to share them with fellow Buddhists. The exhibition will be more documentary-style than an art event,'' he said.
``I am grateful to have had the chance to learn more about Buddha, and be able to capture some of it and bring it back to Korea to share it with others.
``I hope visitors will feel the spirit of Buddha through my works.''
Ven. Jibeom joined the Buddhist faith in 1967 and eventually became the head monk of Geukrak Temple on Jeju Island in 1990. Discovering a talent for singing, he started to sing and share the Buddhist faith through his songs. He has released six albums and is well-known for his vocals and continues to perform around the nation.
The exhibition will run from May 8 through 14 at the Yeon Gallery, Jeju Island. For more information, call (064) 757-4477.