Home Asia Pacific North Asia S/N Korea Arts & Culture


Mobile apps, a new way to meet Buddha in S. Korea
By Lee Minji, Yonhap News, Jan 28, 2011
SEOUL, South Korea -- When smartphones hit South Korea, they not only reshaped the local mobile landscape but also changed the way the country's 7 million smartphone users live, work and network. The smartphone wave also rode into an area that seems far-off from technology: religion.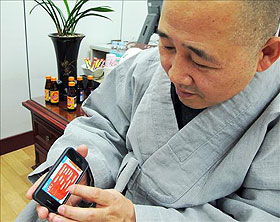 << Ven. Jung Ho of the Jogye Order of Korean Buddhism demonstrates a mobile app on Buddhist philosophy. (Yonhap)

In the world's most wired country, scores of mobile applications developed by Catholic and Protestant groups are helping local faithfuls to conveniently relish religious scriptures and hymns anytime, anywhere.

More than 100 homemade Christian apps are available, including bestsellers that have been downloaded tens of thousands of times. In Seoul's buses and subways, it is easy to spot young commuters flipping through electronic bibles on their smartphones.

In contrast to the enthusiasm Christian circles have shown toward the 'tech-meets-religion' bond, Buddhist efforts for mobile missionaries are still in infancy.

A search at a local app market fishes up about 30 Buddhist apps; more than half of them have never been downloaded. South Korean Buddhists, however, are paving the way to expand their reach on the mobile sphere in a bid to further spread Buddhism.

"Modern-day people are too busy. They don't have the time to visit temples since most temples are located in mountains," said Ven. Jung Ho, director of Missionary Research at the Jogye Order, the biggest Buddhist sect in South Korea. "With the development of mobile apps, people can easily keep in touch with Buddhism. Smartphones can serve as mobile temples."

Buddhist apps range from a mobile version of Buddhist prayer beads to a location search program that tracks the nearest temple via a global positioning system (GPS).

Smartphone users can also download various versions of key scriptures such as the Heart Sutra, Diamond Sutra and Thousand Hands Sutra. A touch on the display brings out a solemn but soothing chanting of holy verses with rotating images of serene temples and Buddhist monks going through Zen meditation.

For those who are new to the religion, there are fun, light-hearted apps. A tap on an mobile "moktak," a percussion instrument that local monks use while chanting, rings out the signature rhythm of wooden notes that echo in South Korean temples.

One app named "Hello Dharma School" shows pop-up animations of Buddha's life, with features that explain the basic philosophies of Buddhism in easy-to-comprehend words.

Experts say Buddhist apps are an example of religion's adaptation to modern conveniences.

"The old ways of spreading Buddhist culture, through brick-and-mortar contents, can no longer weather the changing trends. The conventional means of communication can now convey only 1 percent of what is there," said Kim Sung-chul, a professor of Buddhist Studies at Dongguk University in Gyeongju.

"Without new channels such as mobile apps, Buddhist missionary efforts cannot continue," he said.

There are also growing hopes that the apps will energize the graying Buddhist population by nurturing young believers. Of the 10 million South Korean Buddhists, who account for nearly one-fifth of the country's population, nearly 20 percent are in their 40s. The percentage of Buddhists older than 65 stands at 13 percent, higher than the 9 percent level of Catholics and Protestants.

"When people think of Buddhism, silence, mountainside temples and gray monk robes would come to mind first. Most people do not think of Buddha's words or methods to practice inner peace," said Ven. Jung Ho.

"Young people these days are distressed. If they learn about Buddhism through mobile apps, they will surely find out that there is more beyond the stereotype images on Buddhism," he said, adding that the Jogye Order is studying whether to launch a mobile app that will help prevent suicide through meditation and words.

Young smartphone users voice support for religious groups' attempts to make Buddhism more approachable.

"I downloaded an app that features sutras. They were more interesting than I had expected," said 25-year-old Cho Yoonna, who has participated in a temple stay program and reads scriptures, but is not a devoted Buddhist yet.

"South Korean churches have active missionaries and programs for young people. They are fun and easy. In contrast, I mostly only see old women at temples. I think mobile apps can change that and help more young Koreans learn about Buddhism," said Cho.

Experts say that Buddhist apps made by local developers can also lead to opportunities abroad as global interest in Buddhist culture and meditation is on the rise.

The Cultural Corps of Korean Buddhism (CCKB), which runs temple stay programs, are betting on an English-language app that is slated to kick off in February.

The CCKB's temple stay program, which organizes stays at nationwide temples, has garnered huge success with an average of 15,000 locals and foreigners signing up each month. Their mobile app on temple stay, which provides schedules for stays at numerous temples along with basic information, has also fared well with a total of 6,000 downloads logged in the last three months.

"People really liked the Korean-language temple stay app since they could get second-hand experience of the program prior to the actual stay. We hope that foreigners will also enjoy it," said Kim Won-min, an official at CCKB.

According to Jeon Kyu-hyeon, an app developer who made three Buddhist apps last year, nearly half of the downloads for his works were generated outside of South Korea.

"The apps were quite a success. In the first few months, thousands of people downloaded them everyday. It proved locally produced Buddhist apps can have market potential if multilingual services are provided," said Jeon.

Jeon, however, stressed that for further success, language and copyright issues should be solved first.

Despite the flurry of religion apps, some question whether Buddhist apps can compete with more chic and dynamic non-sectarian apps.

"Most mobile contents are quite flashy. They are designed that way in order to catch people's attention. In that sense, I'm not sure how far Buddhist apps can go," said Kim.

South Korean Buddhists, nonetheless, plan to keep banking on mobile methods in a bid to aid more people's journey to inner peace.

"What is easily earned is easily lost. At first, we were concerned that Buddhist knowledge acquired so effortlessly through smartphones may not last," said Ven. Jung Ho.

"But we thought once more. If even one person can find peace of mind through Buddha's words, we will continue to service and develop apps. We are borrowing the world of smartphone for that goal."