Home Asia Pacific North Asia S/N Korea History & Archaeology


Fire Destroys Cultural Assets of Temple
By Lee Jin-woo, The Korea Times Staff Reporter, April 6, 2005
Yangyang, Gangwon Province (South Korea) -- An Arbor Day forest fire destroyed invaluable treasures stored at Naksansa Temple in Yangyang, Kangwon Province, including a bronze bell, which was designated as National Treasure 479 in 1968.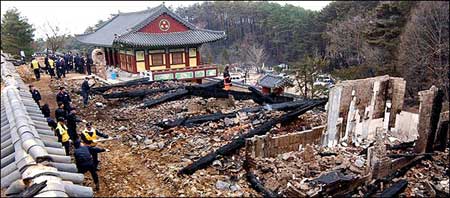 Police officers work at the site of the remains of Simkumdang, one of the destroyed structures
of Naksansa Temple in Yangyang, Kangwon Province on Wednesday. Korea Times
The fire scorched 250 hectares of forest and 240 structures in the rural area near Sokcho City along the east coast and engulfed 14 structures of the temple, many of them registered as tangible cultural properties of Kangwon Province.
The temple, which was first built by Rev. Uisangdaesa in 676 during the Silla period, had three national treasures, including the bronze bell, a seven-storied stone pagoda (Treasure 499) and the lacquered, seated Avalokitesvara bodhisattva statue (Treasure 1362).
Live charcoal pieces from the blaze first threatened the temple at around 6:50 a.m. Tuesday, the last time Arbor Day was celebrated as a national holiday, but it was extinguished in about an hour by monks, temple officials and firefighters prepared to protect the historic Buddhist temple.
However, at around 3 p.m., the fire re-kindled and raged again, fanned by strong winds with a velocity of over 15 meters per second. The second fire lasted a few hours and scorched two-thirds of the temple facilities and even a fire engine belonging to Sokcho.
The bell with its beautiful engravings, which was 158 centimeters tall and 98 centimeters in diameter at its mouth, was found completely burnt on Wednesday morning while the pagoda was slightly scorched by the fire.
At around 8 a.m., after putting out the first fire, temple officials moved the unique 1.2-meter-high gold-plated statue made of paper and two 3-meter-long Buddhist altar pictures to the basement of one of the few modern buildings at the temple.
``It is heartbreaking to hear the news,?? Cultural Heritage Administration head Yoo Hong-joon said on his way to the site. ``It will be no problem to make a replica as we took a brass-rubbing of the bell, but it won?t be the same as the original.??
``The total damage inflicted on the temple is estimated at around 3 billion won ($3 million). All restoration costs will be supported by the government,?? an official of the administration said.
The temple was earlier destroyed by fire during the Mongolian invasion of the 13th century.
During the Choson period (1392-1910) the temple was repeatedly reconstructed and expanded by royal order in 1467, 1469, 1631 and 1643.
The present facilities were constructed in 1953 after the buildings were again destroyed during the 1950-53 Korean War.