Home Asia Pacific North Asia S/N Korea Temple Stay


Georgia State University students joints the temple stay program at Un Mun Sa temple.
by Emi Hayakawa, BTN, March 27, 2012
Cheongdo, South Korea -- On March 13th, a group of students from Georgia State University joined the Un Mun Sa temple Temple Stay program for 2 nights and 3 days.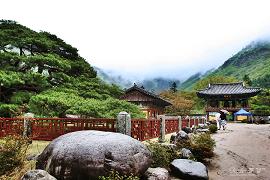 << Un Mun Sa, located in Cheongdo
Together, they practiced eating out of the bowl (balwoo kongyang), making lotus lanterns, and practiced various Buddhist rituals such as the morning and evening chantings and the 108 prostrations.
These students experienced Korean Buddhism through various activities that they would have never experienced else where.
Their day begins at 3am with their morning chanting session.
Georgia State University and Un Mun Sa temple have been accepting students every 2 years from 2003 as a Korean culture experience program.
These students also receive "hwa-du" (meditation keyword) from their masters during their stay to reflect upon.
The Temple Stay program provided a unique opportunity for the students to experience traditional culture and the lifestyle of Buddhist monks in this ancient temples that have carried on the heritage of Korean Buddhism for the last seventeen hundred years.