Home Asia Pacific North Asia S/N Korea Temple Stay


Kneeling at one with the world
by Richard Tulloch, Sydney Morning Herald, April 1, 2012
Seoul, South Korea -- I didn't know life in a Korean Buddhist temple would be so tough. It was one of the most interesting things I'd ever done but I got out just in time, before I was crippled for life.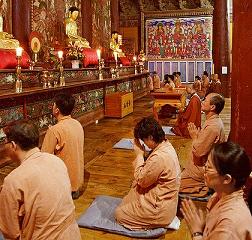 << "Take good care of your knees", Jogyesa Temple, South Korea

South Korea's Temple Stay program is one of the world's great travel success stories; a way for anyone with an interest in religion and culture to gain an insight into the Buddhist world.

When I arrived at the Woljeongsa temple office, a shaven-headed monk was sitting cross-legged on the floor, typing on a laptop.

"Mr Richard, you are in time to do the 108 vows but that means you will miss dinner."

"Oh, naturally I'd like to do the vows," I replied. Why not? I'd already missed lunch and that wasn't too bad.

I slipped into a comfortable orange judo suit, not as bright as those issued to guests of Guantanamo Bay but similar. Then I joined 100 other visitors in the vowing room and was passed an English translation of the vows. They were things I had no trouble vowing unhypocritically - to respect nature, try to be honest and honour all living things.

Unfortunately, Buddhist vowing isn't as easy as vowing never to drink alcohol again. Buddhist vowing means standing while each vow is chanted, then kneeling, falling forward into a prone position and standing up again. Repeated 108 times, on an empty stomach.

Nightfall meant bedtime. 7.30pm seemed a tad early but reveille was at 3.30am, apparently.

That's not hard after sleeping on a thin mat with a tiny, rice-filled pillow. I was nearly hungry enough to eat it. When the gong rang, I was delighted to have an excuse to get up and face the day.

There isn't much day at 4am. Monks chanted in the gloom as we filed into the temple and prayed for an hour; more kneeling and chanting. Buddhism didn't fare well when the religions were being allocated their music. Christianity got Handel's Messiah; Buddhism got a tuneless, keyless drone.

"Is it breakfast now?" I whispered hopefully to my guide. "Soon," was the reply. "After yoga."

Our yoga instructor had to be carried in on the back of a monk, her ankle heavily bandaged. She sat and gave orders while two ridiculously supple demonstrators showed how it should be done.

We started with stretch exercises I last did 30 years ago when in full hockey training. I couldn't do them back then; now even faking it was excruciating.

I hid behind 100 lithe Koreans but the instructor's steely voice broke into English: "Mr Richard, you not trying hard enough!" A hundred heads turned to look.

After breakfast (cross-legged, of course), we were set a writing exercise. At last - something I was supposed to be competent at.

The task was to reflect on what we had learnt in our lives and to write a letter of advice to our descendants.

I wrote just one line: "Take good care of your knees."