Home Asia Pacific North Asia S/N Korea Temple Stay


Famed Korean Buddhist temple offers holiday program
Korea.net, December 13, 2005
Daegu, South Korea -- Haeinsa Temple, the home of the famed Tripitaka Koreana, is offering a two-day Christmas program for foreigners and Koreans this year.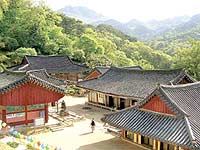 Participants are invited to visit the temple, located near Daegu in the southeast of the peninsula, from Dec. 23 to 24.
Heinsa is one of the three most famous temples in South Korea. Built by Suneung and Ijeong during the reign of King Aejang of the Silla Empire (AD 802), it nestles on Mt Gayasan in Hapcheon-gun district of Gyeongsangnam-do province.
Its claim to fame is that it houses the largest collection of Tripitaka Koreana in East Asia, and because of that Unesco declared it a World Heritage site.
Apart from being a highly venerable place, it also provides peaceful atmosphere that helps soothe one's mind. Staying there, one is rewarded with beautiful scenery and a part of Korean history not available elsewhere.
Guests will be given a tour of the temple, hike around the surrounding mountain area and participate in a Christmas party.
For more information, call 210-6285 (011) 426-0932.
Please also read: Korean pilgrimage