Home Asia Pacific North Asia S/N Korea Temple Stay


"Watching the sun" - Hyangiram Hermitage
By Shim Hyun-chul, The Korea Times, April 18, 2008
Dolsan-eup, Yeosu (South Korea) -- After passing narrow paths between rocks and climbing the narrow stairs for 30 minutes, the South Sea appears, spread right before your eyes.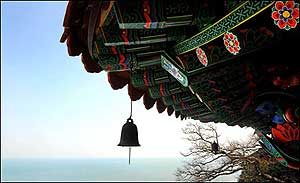 << The horizon of the South sea is seen from Hyangiram Hermitage, which literally means "watching the sun," located at Mt. Geumo in Dolsan-eup, Yeosu, South Jeolla Province. / Korea Times Photos by Shim Hyun-chul

This is Hyangiram Hermitage, located at Dolsan-eup, Yeosu, South Jeolla Province. It is a place where one can find peace while watching the deep blue horizon, listening to the gentle striking of the wooden gong by a monk and breathing in the scent of candles.

Hyangiram Hermitage was designated as cultural asset No. 40 of South Jeolla Province. It was originally called ``Wontongam'' when it was built by renowned Buddhist monk Wonhyo in 644, the fourth year of King Uija of the Baekje Kingdom (18 B.C.-660 A.D). Its name was later changed to Hyangiram Hermitage.

Hyangiram, which literally means ``watching the sun,'' is not a very big temple. The front yard of Daewoongjeon, or the main building of the temple, seems small because it is located near a narrow mountain trail. However, the South Sea that spreads out in front of the temple makes for a decent front yard.

If you follow the rock trail behind the Daewoongjeon, there the Gwaneumjeon stands, another building of the temple, and also a rock where legend says the Buddhist Monk Wonhyo meditated while watching the sunrise.

Because the Hyangiram Hermitage is located at the Dadohae Marine National Park and offers beautiful scenery, including a forest of camellia trees between the rocks and stones of Mt. Geumo, it is visited by many tourists. The Impo village area, located near Hyangiram Hermitage, and Mt. Geumo are especially famous for their forests of camellia trees. During spring, the whole area turns bright red with camellia blossoms. As one of Korea's four Buddhist hermitages to the Buddhist Goddess of Mercy, along with Naksan Temple's Hongyeonam, Mt. Geum's Boriam and Ganghwa Island's Bomunam, Hyangiram Hermitage holds their Hyangiram Sunrise Festival Jan.1 every year.

Shuttle bus services are available every thirty minutes at the parking area of the national park, and the bus will take you to the entrance where you can reach Hyangiram Hermitage. The fee to enter Hyangiram Hermitage is 2,000 won for adults and 1,000 won for children. For more information, visit http://yeosu.go.kr or call (061) 690-2036.