Home Asia Pacific North Asia S/N Korea Temple Stay


Sacred Korea
by Kay O'Sullivan, Sydney Morning Herald, October 4, 2008
Seoul, South Korea -- Buddhism, its philosophy, culture and temples, is crucial to an understanding of Korea, past and present. But until 2002, tourists found it difficult to access the knowledge and the riches of Korean Buddhism.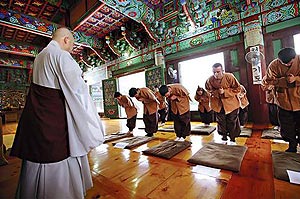 << Calming ... Korea's Templestay program offers the chance to experience Buddhism.

That changed when the Jogye Order of Korean Buddhists initiated Templestay, a program that delivers exactly what it says - sojourns in temples.

At the time of its launch, which coincided with the football World Cup in Korea and Japan, only a handful of temples were involved in the scheme.

Six years after the FIFA roadshow left town, Templestay is booming. Last year, 13,533 tourists took part in a temple stay and the number of temples involved has grown to 87, welcoming visitors for anything from just a few hours to extended stays.

Generally, life for tourists who opt for a temple stay mirrors that of the monks who live there, with early rises, meditation sessions, meal offerings and homage services.

Guests can be as active or as solitary as they like with most temples offering additional activities in traditional Buddhism practices, such as martial arts, tea ceremonies and prayer bead and lantern making.

Guests are given robes for their visit, are served their meals and sleep in same-sex dormitories.

A bonus for tourists is that generally Korean temples, having been forced out of cities in times of religious oppression, are found in some of the most beautiful areas of the country in the mountain or parks. There are a number of city-based temples taking part in the scheme, too.

A basic two-day program, including an overnight stay, costs from $59 to $95.

The program's website, eng.templestay.com, lists participating temples and has extensive information on the place of Buddhism in Korean life. Interestingly, it also warns tourists that life in most temples begins about 3am.

For more information, phone the Korean National Tourism Organisation on (02) 9252 4147/8 or email visitkorea@knto.org.au.