Santi Asoke not welcome on panel
by AMPA SANTIMATANEDOL YUWADEE TUNYASIRI, Bangkok Post, April 12, 2005
Bangkok, Thailand -- The Sangha Council is adamant it will not allow a senior member of the unorthodox Santi Asoke Buddhist sect to sit on the organising panel for religious ceremonies to mark Visakha Bucha Day next month.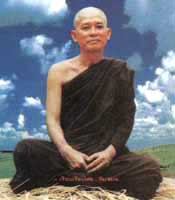 << Samana Bodhirak, The man behind Santi Asoke in Thailand (established since 1965)
The council yesterday resolved not to allow Than Chan, a leading member of the Santi Asoke sect, to be a member of the organising panel.
The ceremonies would be held at Buddha Monthon in Nakhon Pathom province during May 22-31. The council said members of the orthodox sect had been expelled from the Buddhist clergy.
The council's resolution followed a protest by a Buddhist group led by Col Thongkhao Puangrodphan against the role of Santi Asoke in the religious ceremonies at Buddha Monthon. Maj-Gen Chamlong Srimuang, chairman of the Morale Centre and member of the organising committee, said senior monks on the Sangkha Council disagreed that Than Chan of Santi Asoke sect be invited to sit on the organising panel. His panel had already removed Than Chan from the list, said Maj-Gen Chamlong.
However, Jakkratham Thammasak, director of the National Buddhism Bureau, would ask the Sangkha Council to review its decision. But Maj-Gen Chamlong disagreed with the another move by some Buddhist groups to block the Santi Asoke sect from taking part in religious rites at Buddha Monthon.
Meanwhile, the government is embarking on a three-year effort to instil a strong sense of ``Buddhist values'' in the minds of Thai Buddhists, Prime Minister Thaksin Shinawatra said.
Speaking after yesterday's meeting with Maj-Gen Chamlong and representatives of monks, Mr Thaksin said the campaign would start with monks of all Buddhist sects being invited to participate in religious ceremonies to mark Visakha Bucha Day, which falls on May 22.
Mr Thaksin said efforts would be made to instil in Thai Buddhists a sense of Buddhist values, adding the government would make a vigorous effort in the next three years to foster a deep understanding of the Lord Buddha's teachings among Thai Buddhists.
Maj-Gen Chamlong yesterday led Buddhist nun Sansanee Satianrasut of Sathian Dharma Satharn centre and 10 monks to meet the prime minister to discuss about preparations for May 22.
TOP