Buddhist retreats for women
Bangkok Post, July 11, 2005
Bangkok, Thailand -- The late Buddhadasa Bhikkhu always maintained that women had the same potential as men to attain enlightenment and felt that it would be more effective, and more socially proper, for women to learn Buddhist teachings from their own sex.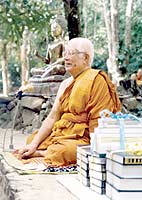 << Revered Dharma teacher Buddhadasa Bhikkhu calls women as "Dharma Mata" (Mother of the world)
The highly respected abbot envisioned a place where women would be able to practise dharma on a full-time basis and become dharma teachers, even coining a special term for them: dharma mata (mother of the world). Thus the seed of what would become the Dharma Mata Hermitage was sown.
Since Buddhadasa's death, a group of monks and lay practitioners at Suan Mokkh, the forest monastery he founded in Chaiya, Surat Thani, has been pushing for this wish of his to be realised. Subsequently, a 40-rai plot within the monastery compound was set aside as a sort of boarding school with a special Buddhist curriculum oriented toward women. The first class was held there in 2000.
Presently, the Dharma Mata Hermitage is open to women of any nationality (but they must be proficient in Thai, the medium of instruction) who are committed to the pursuit of dharma. Three more courses are due to be held there this year: two 10-day sessions (August 6-15 and December 3-12) and an intensive, four-month course, starting on September 1.
To tie in with the holy days of Asarnha Bucha (falls on July 21 this year) and Khao Phansa (July 22; the beginning of Buddhist Lent), the hermitage is organising an Open House Day over the weekend of July 23-24. Participants may spend the Saturday night at Suan Mokkh where they will have an opportunity to absorb the peaceful, natural atmosphere as well as learn about basic Vipassana (Insight) meditation techniques from the teachers there.
Next year, as Thais commemorate the centenary of Buddhadasa's birth, the hermitage plans to hold a four-week retreat for girls aged 11 and 12; it is tentatively scheduled for April 1-30. Grown-ups can register for two-week or four-week retreats which will run throughout the year, starting from January 7.
For more details on any of the above, call the Dharma-dana Foundation on 07-743-1661/2.
TOP