Coming alive with colour
by Grace Chen, The Star, Jan 28, 2006
Just how do monks and nuns celebrate Chinese New Year? GRACE CHEN visits Fo Guang Shan Dong Zen monastery.
Jenjarom, Selangor (Malaysia) -- THE Fo Guang Shan Dong Zen monastery in Jenjarom, near Banting, Selangor, is a landscape of lanterns and flowers. In the gardens, the trees bend under the weight of pink cherry blossoms, and the tea trees have been sculpted into Bodhisattvas. At seven metres, they are a majestic sight.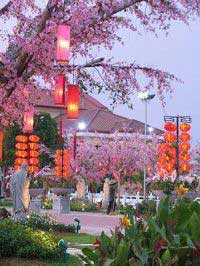 << The two million visitors expected will certainly be floored by the work done by the monks, nuns and volunteers on the monastery grounds. Pictures by Fo Guang Shan Dong Zen
As Venerable Man Dao comes to greet me, the first words to leap out of my mouth are: "Are those cherry blossoms for real?"
The 58-year-old nun laughs indulgently and explains that they are artificial. "But isn't the effect spectacular?"
I nodded.
"We set up these decorations so that people will feel the joy and confidence of Buddhism," explains Man Dao.
A former secretary, this KL-ite joined the order when she was in her 30s. She tells me the monastery will be open to the public from Jan 28 to Feb 19, 10am to 10pm, in conjunction with the coming lunar new year. Among the highlights is the Lumbini Garden (meaning "abundance of fruits and flowers"), which houses a tower of lapis lazuli.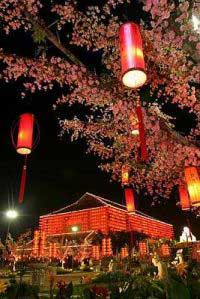 The night-time scene is breathtaking >>
Thousands of potted plants within the monastery, most of them in full bloom, will fill the air with heady scents. Outside the main shrine, three brightly-lit animatronic figures of the Buddha and Boddhisatvas will sprinkle holy water from an elevated rail. There will be a yearend praying ceremony at 8pm, and at 10pm, the lanterns will be lit. Come midnight, devotees will line up to offer their first incense for the new year.
In front of the main shrine the bell will be struck.
"There will be volunteers all over the compound to guide the crowd. A hundred thousand or so devotees will line up for the incense-lighting ceremony to make their wishes for the new year. There will be a sense of harmony in the air and, though there is a big crowd, no one will push and there be no rush," says Abbot Hui Xian.
"I don't sleep but spend the whole night praying," says Man Dao. "This is the time when I feel most at peace and in my prayers I wish for all the good things to come to mankind."
The two-year-old monastery is expecting close to two million devotees. Last year 190,000 devotees turned up during the 4th day of Chinese New Year alone.
The monastery planned the logistics, like parking, security, traffic and crowd control, six months in advance.
"By organising this Lantern cum Flower Festival, we hope to educate the devotees on the way of Buddhist thinking. This is also a time to enhance and promote family ties," Man Dao tells me.
And to think that monastic life is one of quiet contemplation and prayers!
Man Dao says that such perceptions of monastic life are outdated. "Monks and nuns no longer live lives of seclusion on faraway hills. In these modern times, we don't hide away. The Fo Guang Shan (meaning Buddha's Light Mountain ) aims to promote humanistic Buddhism by going into society to spread the Buddha's teachings," explains Man Dao.
Venerable Hui Xian, 31, remembers how he spent Chinese New Year as a layperson, when he was mostly concerned with himself and what he wanted.
"Now as a monk I am busier with more things to do. I start my day at 6.30am and don't finish until 10pm. But we feel happier here because what we do is for the benefit of others, not for oneself. Before, I only asked to be blessed with prosperity and good health for myself. Now that we are bestowing those blessings on others, I feel them coming to me. This brings more joy and it makes a big difference," he says.
Satisfaction in serving others
Ask any monk or nun as to why he or she has chosen to serve the religious vocation, and you are likely to get an interesting answer. Take Venerable Hui Shiuan, for example.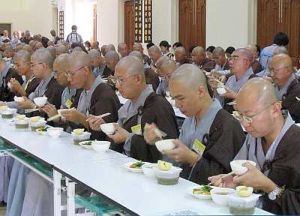 << Mealtime is a time of reflection.- Pictures by Fo Guang Shan Dong Zen & the Star's DARRAN TAN.
"When I was young, a fortune-teller told my parents that I would not live past my teenage years because I was such a sickly child. But I did. From the Buddha's teachings, I learned that I had to be the master of my own destiny. Joining the brotherhood of monks, I hope to inspire others to uphold Buddha's teachings," says Hui Shiuan, from Tainan, Taiwan.
Do the monks and nuns take time off to be with their own families during Chinese New Year?
Venerable Hui Xian, who hails from Kelantan, says there just isn't time. "It's our families who come to us. My mother is very proud to have an abbot for a son. When family members come to the monastery they treat us with respect and call us si fu. They are happy to see us," he says.

Abbot Hui Xian >>
But what about those whose family cannot make the journey?
"At first, some find it hard to accept but sooner or later they come to terms with it," says Man Dao. According to Hui Xian, a monk's priority is no longer himself but mankind.
"Our priority now is towards the people. The people in the monastery become our family. Our time is devoted to the study of the Buddhist scriptures," he explains.
"As monks, we are not only dealing with ourselves but with mankind. When devotees come and tell us their problems, we have to help. We are living in very troubled times, so we have an important role to teach and guide them in the Buddhist way," adds Hui Xian.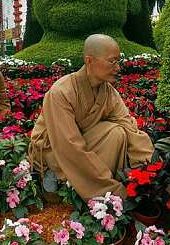 << The Venerable Man Dao.
Man Dao says there are sacrifices to be made when one takes the vows to become a nun. She takes the Buddha as an example.
"Gautama was so dedicated to achieving enlightenment that he left his wife and son to search for the truth. If he had not made that sacrifice, there would be no Buddhism today," she explains.
Becoming a nun or monk is not as easy as one might think. Man Dao says the monastic order vets all candidates carefully before they are accepted. They prefer candidates who are single and have impeccable morals. Once chosen, the person goes through a period of study and exams before being ordained.
"There is no such thing as seeking refuge in a monastery just because someone broke your heart or because you are trying to escape the responsibilities of life. That only happens in the movies," she asserts.
"And no, we don't do kung fu or catch mosquitoes with chopsticks!" quips Hui Xian, the abbot.
To give us a glimpse of what life in the monastery is like, Man Dao takes us to the Buddhist College within Dong Zen. There the students wear grey uniforms and there is no idle chitchat or loitering before class.
"The discipline is strict. Students are required to sit up straight during lessons and when they are reading the scriptures. At mealtimes they have to line-up. In the dining hall, they eat mindfully. They sit up straight and there is no talking or choosing food," she points out.
Yu Mei Ling, 32, who once studied hotel management in the UK, is a student at the college. She says that the learning environment in the monastery is very healthy. Yu's fellow classmate, Lisa Ngadi, 32, from Indonesia, says the strict discipline helps to better one's personality and allows better control of emotions.
It is not clear if these two will be ordained as nuns – for now they will only say that the learning has helped them to understand the Buddha's teachings in a deeper way.
"Once you are ordained as a monk, it does not mean that there is no turning back. Should a monk decide to return to the outside world, he will go through a disrobing ceremony. After that he is free to leave the monastery.
"There be no shame," she assures. W
To contact Fo Guan Shang Dong Zen call 603-31911533 (Malaysia)
TOP