First World Buddhist Forum Opens in East China City
Xinua, April 13, 2006
Hangzhou, China -- The First World Buddhist Forum opened Thursday morning in the scenic city of Hangzhou in east China's Zhejiang Province.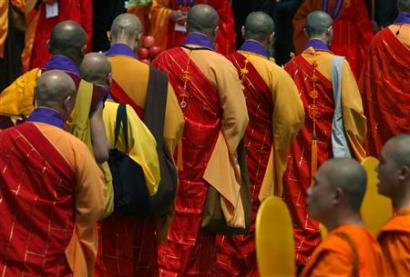 Liu Yandong, vice-chairwoman of the National Committee of the Chinese People's Political Consultative Conference (CPPCC), said at the opening ceremony that governments and peoples should exert concerted efforts to make religions play an active role in building a harmonious world.
"Buddhism has made important contribution to world peace and human civilization in the history. The forum will play a positive role in exploring how Buddhism can contribute to building a harmonious world," Liu said.
Tung Chee Hwa, vice-chairman of the CPPCC National Committee, read a congratulatory letter from United Nations Secretary-General Kofi Annan, who said the Buddha's vision of peace may be more relevant than ever before and called on the public to work together toward the common good and the harmonious and peaceful coexistence of all the world people.
Buddhist Master Shenghui, also vice-president of the Buddhist Association of China, said at the opening ceremony that the forum serves as an equal, diversified and open platform for talks among the people who love the world and the general public, respect and support Buddhism, and cherish a caring heart.
More than 1,000 Buddhist monks, experts and politicians from 34 countries and regions have come to attend the event lasting from April 13 to 16. The monks will pray for world peace on April 15 in nearby Zhoushan City.
With the theme of "A harmonious world begins in the mind," the participants will focus on three topics: Buddhism's unity and cooperation, social responsibility and peaceful mission to make different nations and religions work for a peaceful, prosperous and harmonious world.
Eight Buddhist disciples from the Chinese mainland, Hong Kong and Taiwan proposed in October 2004 to hold a World Buddhist Forum in China, a suggestion that won support from Buddhist circles in Japan and the Republic of Korea.
Sponsored by China's Buddhist Association and Religious Culture Communication Association, the forum is the first major international Buddhist conference since the founding of New China in 1949.