Buddhist monks 'storm' temple in Tibet
The Age, May 10, 2006
Lhasa, Tibet (China) -- Tibetan Buddhist monks loyal to the exiled Dalai Lama stormed a monastery near Lhasa and attacked statues of a deity denounced by him, Chinese state media reported. It was a rare glimpse of religious dissension in disputed Tibet.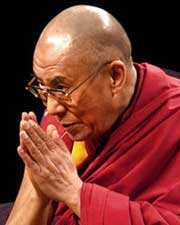 << The Dalai Lama
Seventeen lamas entered the Ganden Monastery on March 14 and tore down two statues, including an image of Dorje Shugden, a deity criticised by the Dalai Lama since the 1970s, the Xinhua news agency reported.
Police were mobilised to prevent crowds of Buddhists from going to the large monastery, government officials told a news conference in Lhasa, the Tibetan capital.
The dispute between the Dalai Lama and the much smaller Shugden stream of his Gelugpa school of Tibetan Buddhism is part of complex doctrinal currents dating back four centuries.
But China's authorities used the latest incident to criticise the Dalai Lama - the most senior figure in Tibetan Buddhism who has been in exile since 1959 and campaigned for autonomy for Tibet.
He, not they, was restricting religious freedom, the authorities said.
"What the Dalai Lama has done violates the religious freedom of believers," Zhang Qingli, the acting Communist Party secretary of Tibet said, according to Xinhua.
In 1996, the Dalai Lama called on his followers to reject the Shugden deity, calling it a divisive offshoot. Supporters of Shugden - Tibetan and foreign - have protested the Dalai Lama's ban as a violation of religious freedom.
The Mayor of Lhasa, Norbu Dunzhub, told the news conference that the Dalai Lama, who is revered by most Tibetans, was using the dispute to stir conflict in tightly controlled Tibet.
"The Dalai clique supported by hostile Western forces is introducing into China the overseas conflict between followers and opponents of the Shugden deity to provoke conflict between monks and followers of different faiths," he said.
China took control of Tibet in 1951 and for decades it exercised harsh, often brutal, rule over its overwhelmingly Buddhist population.
In recent decades, China has restored temples but tightly controlled their activities and has sought to install its own hand-selected senior lamas loyal to Beijing.
Tibet now has more than 1,700 places of worship and 46,000 Buddhist monks and nuns, the overseas edition of the People's Daily reported.