Young Buddhist monks lead insular lives in India
by Thomas Kent, Spero News (UCA News), May 15, 2006
Arunachal Pradesh, India -- For boys who grow up as Buddhist monks in remote Himalayan monasteries in northeastern India, spiritual discipline is tempered by home memories and attractions outside the walls of the monastery.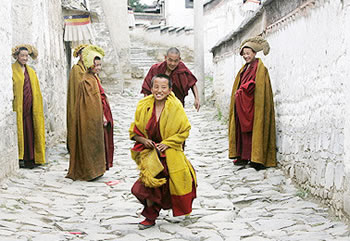 << In the Himalaya region, young boys taking the path of monkhood are common
One of them is Lopsang Sherab. At the age of 20, the saffron-robed youth with a shaven head has already completed nine years at a monastery in the state of Arunachal Pradesh, which borders the Tibetan region of China.
Sherab says he had to become a monk since Buddhist lamas in his village in Bhutan identified him as the reincarnation of a tulku, or bodhisattva, an enlightened being who chooses to continue to reincarnate to help others achieve enlightenment. He left home at 11 and keeps in touch with his relatives only through letters. "I want to meet my parents, but it is not possible as I want to finish my studies first. The monastery and monks are like my parents here," Sherab told UCA News.
He lives with 42 young monks in Thubchog Gatseling Monastery in Bomdila, 2,745 meters above sea level, and some 345 kilometers northeast of Guwahati, the nearest railway terminal, in neighboring Assam state. Guwahati is 2,950 kilometers east of New Delhi.
The Bomdila monastery is among several Buddhist places of learning that dot the region, including the monastery in Tawang, about 40 kilometers northwest of Bomdila. The Tawang monastery houses some 400 monks, half of them teenagers, and is said to be the largest Buddhist monastery in the world outside of Lhasa, Tibet.
The Monpa, a predominantly Mahayana Buddhist ethnic group, dominates the region. Unlike the Buddhist custom in other places, where boys become novices or monks for a specified period, monkhood in Arunachal Pradesh is for life. Those wanting to leave have to pay a heavy fine to the monastery.
In the past, parents with three sons would send the middle one to the monastery, while parents with two sons sent the youngest. Other boys joined if they wanted to. Now people do not care for such customs, a senior monk said.
Sherab recalled walking three days to reach his monastery, since no roads connect his village in eastern Bhutan with Bomdila. Asked how he felt about monastic life, he said: "I'm going in the right way, following the path of Buddha. I think about enlightenment. We don't want to be attached to the wheel of life."
At the monastery, the monks learn mathematics, English and Hindi, aside from Buddhist Scriptures. As an elder among the boys, Sherab sometimes gets assignments to copy Buddhist Scriptures. He also supervises the younger ones such as Tenzing Gensen, 12, a chubby boy with dimples. When asked why he became a monk, Gensen answered, "I became a monk just to become a monk."
He joined the monastery with his parents' permission. He said the "saddest day" was when he put on his monk's robes, "away from my family and friends." His parents now phone him and visit him with special homemade food that he shares with his friends. One needs the abbot's permission to enter the monastery or speak with the young monks.
After two years in the monastery, Gensen wants more days free from studies so he can watch cartoons on television.
Another boy monk, Jampa Lobsang, said his parents forced him to become a monk. "But I'm now quite happy here. My ambition is to be a good monk and nothing else," he declared.
Tenzing Khechog, 20, who spoke English and interpreted for the other monks, has many dreams. One is to become a Buddhist philosopher. "I feel good I'm here. I want to do something good," he told UCA News.
In the monastery the young monks follow a rigorous schedule. They wake up at 4 a.m., and after 30 minutes given to washing, they meditate and pray until breakfast at 7:30. Prayer begins again an hour later and continues until lunch at 12:30 p.m., with a one-hour break at 10 to attend to personal needs.
They study Buddhist Scripture from 2 until 3:30 in the afternoon and then break for half an hour. Mathematics, English and Hindu classes follow for three hours from 4 p.m. Dinner is at 7, followed by a half-hour of Scripture reading for the junior monks from 8 p.m. Other religious studies and activities keep them bust until they go to bed around 11.

Asked about other religions, most young monks said they have heard about Christianity, Hinduism and Islam but they know nothing about these religions.
Over in Tawang a group of young monks was huddled together watching a TV program inside a shop just outside the monastery entrance.
According to one of the young monks, Genden Tsering, "All want more free time to watch cricket on television in friends' houses or to play games." The 14-year-old monk says he is not worried about remaining celibate for life or maybe missing out on higher education. Prayer and rituals are "good and compulsory," in his view, although he would not mind having television and a motorcycle. "As for dress, I'm satisfied with my robes," he added.
However, his confrere Lobsang Tsering would like also to wear jeans, jackets and sweaters to stay warm. A senior monk at the Tawang monastery, Pema Wangchuk, 43, recalls when monks were not allowed to wear jackets or sweaters. Now they wear warm clothes over their robes during winter.
The shop where the young monks were watching television is managed by Jamyang Norbu, a former monk who left the monastery after 10 years. He estimated that some 20 percent of monks leave the monastery but added that he sometimes regrets leaving monastic life.
Some monks now go for higher education. One of them is Tsering Tashi, 22, a student at the Central Institute of Himalayan Cultural Studies in Arunachal Pradesh. "I feel very happy being a monk," he said. "If I leave," he explained, "I'll have to marry and raise children, and will not have much time to pray and do other religious obligations."
TOP