Award-winning documentary part of a spiritual journey
The Nation, April 10, 2011
Bangkok, Thailand -- Even with Nation Channel's "Zen 2010: From Suan Mokkh to Plum Village" garnering the Sangchai Sunthornvut Award for top documentary, Nation Group Editor-in-Chief Suthichai Yoon continues his spiritual journey.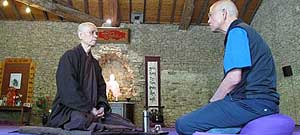 The channel's first report on contemplative dharma reflects Suthichai's keen interest in Buddhism, and through the series, he's discovered detachment and patience.
The documentary explores two leading Buddhist figures: well-known Zen master Thich Nhat Hanh of Plum Village in France and the late Buddhadasa of Suan Mokkh in Thailand's Surat Thani.
The two monks are regarded as seminal thinkers and philosophers. Known for his "engaged Buddhism", the Vietnamese is a meditation teacher, a social activist and an advocate of peace. He blends mindfulness practice usually associated with the Theravada tradition with the insights of the Mahayana sutras and Zen.
The Thai founded Suan Mokkh - the Garden of Liberation - as a religious meditation retreat after giving up on the monastic system in Bangkok. At Suan Mokkh, Buddhadasa pioneered a socially conscious form of Buddhism, based on the Buddha's teachings about society after becoming disillusioned with Bangkok temples - dirty, crowded and corrupt, nothing like the purer, simpler Buddhism in the province of his birth.
The documentary asks, metaphorically, whether the same raindrops fall on Zen practice elsewhere that fell on the house of the late Buddhadasa Bhikkhu in Surat Thani, in southern Thailand.
Suthichai Yoon and Thich Nhat Hanh met only once, briefly, in Bangkok in the summer of 2007, but formed a spiritual bond. The famed Vietnamese Zen monk invited The Nation's founder to the spiritual retreat he has set up, Plum Village in southwest France. Suthichai finally found time to take up the invitation in June 2009, accompanied by a Nation Channel production team.
To appeal to younger viewers, he decided this documentary should have two co-hosts: popular young preacher Phramaha Vudhijaya Vajiramedhi, a prolific writer under the pen name V Vajiramedhi and SeaWrite Award-winning writer Prabda Yoon, Suthichai's son.
At Plum, the production crew underwent two weeks of serious training to learn how to overcome the relentless desire of atta (self), with controlled breathing, to be mindful.
The message from Plum is that by using mindfulness, one can actually discover the light of wisdom in every breath, and attain heaven right here and now without anyone's help.
Zen master Thich Nhat Hanh says the ability to overcome misery on one's own depends on being mindful of the present.
"Thich Nhat Hanh is not just another Zen monk. He's the symbol of mindfulness that's lacking in Thailand," said Suthichai. "True or not, when we're mindful, we can find a way to reconciliation. That's what we can learn from the master of the East who's famous in the West."
The series is hardly Suthichai's first journey of faith documented for the media. His spiritual practice spans a far greater time than his journalism career. Though an active participant in world affairs, Suthichai remains introspective to the point of seeing himself in the monkhood at any given time.
DVDs of "Zen 2010: From Suan Mokkh to Plum Village" are available from Nation Channel and Se-Ed bookshops.