Buddhist film fest to benefit Japan victims
By Lei Jiahui, AsiaOne, Apr 21, 2011
Singapore -- THE Asian Buddhist Film Festival (ABFF) is back after a four-year hiatus. This time round, a portion of the proceeds will go towards helping victims of the recent Japanese quake and tsunami.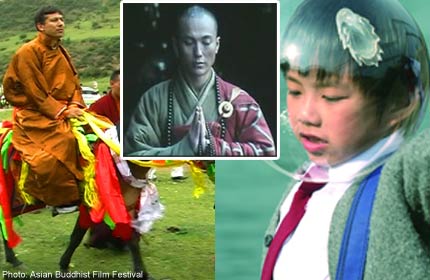 Helping people in need is in line with Buddhist teachings of compassion and giving, said Ambassador K. Kesavapany, director of the Institute of Southeast Asian Studies (Iseas). He is part of an advisory council that is supporting the festival.
"What better way of manifesting the ideas of love, peace and compassion than to donate some of the proceeds from the festival to the victims of the earthquake and tsunami?" he said.
Part of the money will also go to the Children's Cancer Foundation.
The festival will be held from May 5-8, as a prelude to Vesak Day on May 17, and the films will be screened at Great World City's Golden Village cinema. Ten films will be featured, eight of which will be Singapore premieres.
The opening film is Echoes Of The Rainbow by Hong Kong director Alex Law. It won Best Film in the children's category at the Berlin Film Festival last year.
For the first time, a masterclass on film-making will be offered by acclaimed American film-maker Jennifer Fox.
As with the previous ABFF, the organisers hope to promote the themes of love, peace and compassion. Mr Billy Lee, co-founder and chairman of ABFF, said: "There is something for everyone."
The festival is jointly organised by the Asian Buddhist Film Festival and the Nalanda-Sriwijaya Centre, which is part of Iseas.
He added that the mission is "not about bringing new films into Singapore but, rather, (to showcase) good film-making with the compelling themes of compassion, love and peace".
"(These are) universal themes that are common to all religions," he said.
The last edition of the ABFF saw an overwhelming response, with all tickets sold out. It raised $40,000 for charity. Tickets are on sale now.
The Asian Buddhist Film Festival is on from May 5-8. Visit www.asianbuddhistfilmfest.org for more information. Tickets, starting at $10, are on sale at GV Grand at Great World City, or log on to www.gv.com.sg