Why Bollywood celebrities are turning to Buddhism
By Aakanksha Naval-Shetye, DNA India, Apr 20, 2011
Mumbai, India -- Blame it on the high-stress levels associated with the TV industry or simply matters of faith, but an increasing number of telly stars are now finding solace in Buddhism. ActressTisca Chopra has been practising Buddhism for long now, as have been actors Sweta Keswani, Poonam Joshi, Manav Gohil and Shweta Kawatra.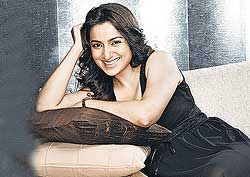 << Tisca Chopra
Actress Shivani Gossain (from Love U Zindagi) who was introduced to the faith by Shweta, however, feels that turning to Buddhism has more to do with self, than handling professional stress. Buddhism is a way of life. Instead of blaming karma or situations or other people, it has taught me to take the responsibility of my own actions and create positivity in my own life. It's all about seeking happiness within, she says. In fact, it is because of the fact that it is practical rather than being preachy, that it has helped her immensely, she explains. It definitely helps me tackle the stress and the high pressure industry better, adds Shivani.
For actress Pracheen Chauhan too, Buddhism has proven to be a turning point in his life. A practising Nichiren Daishonin Buddhist for almost four years now, he feels that one of the most important aspects of Buddhism is that it teaches you to respect others.
Instead of fearing the strong and dominating the weak, as is the usual norm, one learns to appreciate others as much as you learn to appreciate yourself, he says. Meditation, chanting it has certainly helped me become a calmer person and I feel more at peace now. But it's not something you can recommend as such, he adds. It's a rather personal choice and it all has to come from within than be something you go for just because so and so is following it. Another actor reveals that TV industry especially is a rather insecure one. TV actors have to constantly deal with insecurities, be it financial or related to the role. All these do tend to take a toll on your personal confidence and self-esteem as well. But if you are mentally strong enough to deal with it, then you don't succumb to these pressures, he says. Shweta agrees.
There ís no doubt that, as actors, we lead extremely stressful lives, and yes keeping the faith is like equipping yourself to handle these situations better. But more than that, I think it has to do with finding inner peace. Once you realise that everything else falls into place, says the actress.