Buddhist societies present third Wesak International Film Festival
The Buddhist Channel, June 11, 2011 (Source: The Star)
Kuala Lumpur, Malaysia -- The Wesak International Film Festival (Wiff) is back with screenings to be held on June 11, 12, 18 and 19 at the Malaysia Tourism Centre in Jalan Ampang, Kuala Lumpur.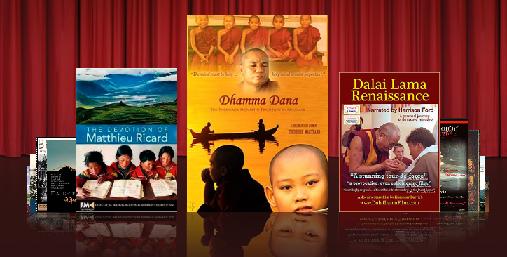 It was previously organised in 2006 and 2008.
Technical and logistics manager S.A. Chiam said the festival aimed to promote Buddhist core values through visual medium and to create greater awareness among the general public about the teachings of Buddhism.
The festival's joint organisers include Bandar Utama Buddhist Society, Buddhist Gem Fellowship, Nalanda Buddhist Society and the Young Buddhist Association of Malaysia. It is also supported by 15 other Buddhist societies in Klang Valley.
This year Wiff will be showcasing 18 Buddhist-themed full-length movies, documentaries, animation and children's films.
"The films shown this time are different from those shown previously," said Chiam.
The eighteen films, comprising movies, documentaries and animation will be screened over two weekends. Highlights include Doris Dorrie's Enlightment Guaranteed, a comedy about two brothers searching for meaning in their lives by going to a Zen monastery in Tokyo and Nakamura Kantaro's Zen about Dogen, a Japanese Zen master who travels to China as a young monk to find his true master.
WIFF also features a spread of award-winning documentaries including Nati Baratz's Unmistaken Child, Tom Vendetti's Emmy award-winning Taking the Middle Path To Happiness, Bari Pearlman's Daughters Of Wisdom, Khashyar Darvich's Dalai Lama Renaissance and Matthieu Ricard's The Devotion of Matthieu Ricard.
The films will be presented in English, German, Japanese, Mandarin, Sinhalese and Tibetan.
The festival's highlight would be the live performance by Tibetan Buddhist nun and singer Venerable Choying Drolma from Nepal whose songs have won rave reviews internationally.
She will be singing some of her best-known songs from her various albums on June 18 at 8pm.
Admission is free.
For details, visit www.wiff.org.my or call 03-7804 9154.