Yaks, Buddhism and life
by HARSHINI VAKKALANKA, The Hindu, July 9, 2012
Thubten Jinpa talks about the arduous trek across the Himalayas with 108 yaks and the film that came out of it
The Himalayas, India -- Thubten Jinpa and their crew of 22 (herders and porters) could have taken the route across the valley to save the yaks, but that would be life threatening for the bovines.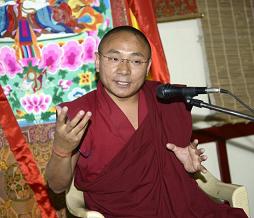 << Thubten Jinpa believes the essence of Buddhism lies in offering a means for liberation from mental conflicts. Photo: Murali Kumar K.
So instead they chose to take 108 yaks through the mountains crossing over at around 18,000 feet, to reach their destination, the Rolwaling valley, where the animals were safely deposited with villagers. Jinpa decided to film their journey, resulting in the documentary 108 Yaks: A Journey Of Love And Freedom
"We didn't plan on doing a film. This was a task given to me by Lama Zopa Rinpoche. Since the nature of the journey is unique we thought we would capture it and share with people what animal liberation means," explains Jinpa, a disciple of Lama Zopa Rinpoche, the spiritual director of the Foundation for the preservation of the Mahayana Tradition (FPMT) of Buddhism.
The journey was conceived when the lama heard about the practise of yak-trading for meat in Nepal and wanted to do something about it.
"The nomads in Nepal were selling the yaks because of the lack of manpower to look after them. We did some research and found out where they were sold. But simply buying them was not enough, we had to find a safe place for them to be looked after," he points out.
The act of freeing the animals falls under the category of animal liberation, a traditional practise in Tibetan Buddhism.
"Animal liberation is our dharma, it can be instrumental in achieving enlightenment," he emphasizes. The practise, according to him, epitomises perfection of giving or generosity, one of the six perfections of the Mahayana tradition which includes morality, patience, perseverance, concentration and wisdom. "Saving a life or giving new life to a sentient being, is the best form of charity. We also believe that all sentient beings are kind and when they are in trouble, it is our duty to pay back their kindness."
Taking such a large group of yaks across the treacherous, uninhabited lands at such high altitudes is something few would venture to do. And what gave him faith to put his lives and so many lives at risk was the courage that has come from years of study.
"The more I learn, the more I connect to the teachings. Now I am able to understand the principles and put them into practise. So whenever a conflict arises, I am able to discern the methods that I can apply to deal with it. I have grown deeper in my faith, my connection and my commitment to continue the practises."
He believes that the essence of Buddhism lies in offering a means for liberation from bondage and mental conflicts.
"All negativity arises from the mind, from having a wrong perspective about life. Suffering is in the mind. One becomes free when one understands this."
Having always nurtured a passion for photography and filmmaking, this is the Jinpa's first attempt to channelize his interest.
"I wanted to use this opportunity of the journey to share our ideas with people. I had a lot of help from my friends in the media in Europe and Singapore. And I will continue doing this if there are any good propositions in the future and if there are benefits in doing so."
Such a long journey
The film 108 Yaks: A Journey Of Love And Freedom that captures the journey of a group of men along with unprecedented number of yaks across the Himalayas exudes a simplicity and innocence that belies the dangerous, therefore more appreciable, nature of its undertaking.
Setting off from Jiri, one of the starting points for treks to Mt.Everest, a group of 22 porters and herders led by Thubten Jinpa sets off for Dhudkunda where they buy 108 yaks that were to be sold to traders for meat. They then begin an arduous trek to the well tucked-away Rolwaling valley crossing narrow mountain paths facing steep cliffs and sometimes freezing rivers across 5000 m heights.
Herding yaks through the narrow paths is not easy. Plus the men have to move at speed of the yaks. Jinpa is worried they might slip and so he chants every morning and evening, praying for the protection of the humans and yaks.
The group faces its share of obstacles along the way with changing mountain paths, and rough trails. At one point they find their only train washed away by the rain. Taking the viewer across pristine mountain vistas, 108 Yaks… is a demonstration of the profound commitment that comes from a space of innocence and love.
The movie also demonstrates the Buddhist principle of tackling misery at its root cause, where animal liberation is not just about ensuring its survival with food and shelter. Death is a certainty for every living being, so what matters is to ensure that life itself is wholesome not just physically but mentally, emotionally and spiritually as well.
"One has to find a way to treat the life state that caused the being to be born as an animal. It is not possible to save all the animals, but benefiting one animal is better than doing nothing," said Jinpa in a talk at the Choe Khor Sum Ling (CKSL) centre, where the film was screened. "The only way to do that is through healing words or mantras and healing objects. Just as your pet registers its name after sometime, all animals sustain the imprints of words or images in their consciousness."
CKSL is a Tibetan Buddhist meditation and study centre set up by Lama Zopa Rinpoche under the guidance of the Dalai Lama.