"THIS" Buddhist Film Festival returns
The Buddhist Channel, Aug 4, 2012
Singapore -- Have I Seen (THIS) Buddhist Film Festival 2012 will return this September at Shaw Theatres Lido, Singapore, and it is set for another spectacu-lar edition with a bigger and more exciting movie line-up from around the world.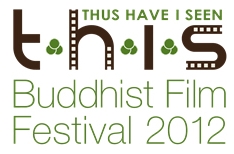 Themed "Open your mind", the festival presents specially selected films that reflect the cultural, social and religious aspects of Buddhism, and seek to open minds with thought-provoking stories told through the silver screen.
THIS Buddhist Film Festival debuted in Singapore in 2009 with 11 unique films, and more than 5,000 tickets (more than 93 per cent) were taken up over the week-long event. This year, the film festival will present 16 films from 11 countries, selected by a dedicated panel from the organiser, Dharma In Action Limited. The suite of films will all be screening for the first time in Singapore, giving moviegoers an excellent opportunity to catch some of the most dazzling productions yet.
The chairman of the organising committee, Teo Puay Kim, said, "This year, the 16 films se-lected are varied in their depiction of Buddhism and Buddhist cultures. Some films will chal-lenge our perception of Buddhist films while others will provide us with more insights into Buddhist cultures and practices worldwide. We are deeply excited by the films selected."
The programming process was full of surprises, said the festival's programmers, led by Cell Lim. He explains, "Although we have now entered the second edition of THIS, the variety of Buddhist films available still amazed us. Moreover, we found many films that challenge the audience to rethink their perceptions on themes such as life, death, justice and imperma-nence. We discovered provocative films like Headshot and The Outrage, rare biographies of eminent Buddhist personalities like The Coming of Tulku and Crazy Wisdom, insightful doc-umentaries like The Gatekeeper of Enmyoin and Schooling the World, and short films such as Angin and Bamiyan - just to name a few. We also held an Open Call for the first time to reach out to more filmmakers and to discover new works. We were most encouraged by the number of entries sent from all around the world, and pleased to say that Souls of Zen, a documentary about the Buddhist response to the March 2011 tsunami in Japan, was select-ed from our Open Call."
The Outrage (U Mong Pa Meung), a captivating Thai adaptation of Rashomon, will open the festival this year, with an intriguing tale of truth and morality. The story, told through different perspectives by four characters, possibly with their own respective agendas, will capture the audiences' attention with its compelling script, its star-studded cast, and fight scenes chore-ographed by Ong-Bak stunt master Panna Rittikrai. The film won the Best Costume Design and Best Special Effects at the 21st Thailand National Film Awards 2011, and Best Art Di-rection and Best Supporting Actress at the 20th Bangkok Critics Assembly Awards 2012.
Closing the film festival will be One Mile Above, based on an incredible true story about a young Taiwanese man's attempt to cycle from Lijiang, Yunnan to Lhasa, Tibet, in a bid to fulfill his late brother's dream. His quest brought him through the most magnificent and hos-tile terrain in the world, and in the process, he discovered his true self during this solitary, 2,000 mile trip. One Mile Above won Best Artistic Contribution at the 24th Tokyo Interna-tional Film Festival 2011 and Audience Award at the 14th Udine Far East Film Festival 2012.
Tickets are available from 27 July through SISTIC at S$11.00 per ticket, excluding SISTIC charges.
For more information, please visit http://thisfilmfest.com/.