Film on Buddhism's journey across Asia to be screened in Delhi
by Madhur Tankha, The Hindu, 22 September, 2013
A new film traces the spread of Buddhism from India to ASEAN countries.

New Delhi, India -- Noted art historian Benoy K. Behl will screen a documentary titled Culture of Compassion: Buddhism in India and ASEAN countries at India Habitat Centre in Delhi on Sunday.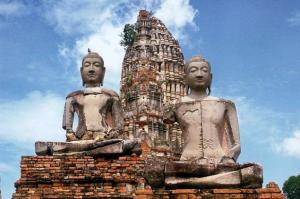 << A Buddhist temple in Thailand, where Benoy K. Behl visited for his new documentary.
The film shows the spread of Buddhism from India to other South Asian countries. Mr. Behl travelled to Bodh Gaya, where the Buddha attained enlightenment.
"This film was made before the Mahabodhi Temple complex in Bodh Gaya was attacked by miscreants. In my film, I try to steer clear of speaking against terrorist attacks or even persecution of a particular community. I do not want to make a political statement. Buddhism speaks about forgiveness and I do not want to deviate from this essential part of the philosophy," said the film-maker, who embraced Buddhism some years ago.
In the North, this Buddhist scholar explored Lahaul and Spiti in Himachal Pradesh. Down South, he traveled to Andhra Pradesh.
To examine how Buddhism spread in other South Asian countries, the film-maker traveled to Myanmar. He also traveled to Thailand, Indonesia, Cambodia and Laos.
"It is a great miracle that ideas do not face any barriers of oceans and geographical distances. Buddhism was warmly accepted by these Asian countries. Actually, there is little difference between Buddhism, Hinduism and Jainism. It is a Western idea that Buddhism is different from these two religions. Sadly, Indians too have started accepting this through our educational system."
Mr. Behl, who has delivered lectures at a number of foreign universities over the past three decades, will also interact with the audience. "Buddhism has a great vision of the eternal harmony in the world. A culture of peace and gentleness, which continues, even in the midst of the materialistic world of today."
Noting that Buddha was one of humanity's wisest teachers as he taught a message of compassion and universal love, Mr. Behl said his philosophy was relevant in contemporary times when there are so many instances of sectarian violence.