Lost Irish Monk
by Ian Lawton, The Buddhist Channel, Nov 2, 2014
Animated Documentary Film Seeks Funding
Meath, Ireland -- Award winning filmmaker Ian Lawton is seeking funds through the world's first Buddhist crowdfunding website, dana.io (founded by former monk Alan Clements) to make a part-animated documentary feature film on the mysterious legend of U Dhammaloka, the lost Irish Buddhist monk.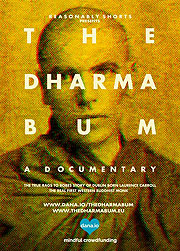 U Dhammaloka AKA Laurence Carroll was born in Dublin in 1856. He left Ireland for America when he was a teenager and became a hobo across the USA, disappearing underground for more than 25 years. From San Francisco he worked the shipping route to Japan and then made his way to Burma, where he was ordained in 1900, many years before the polite Englishman who is often considered the first western Buddhist monk, but our hero was erased from history.
U Dhammaloka was a pioneer engaged Buddhist. Using his standing as a monk he raged against the machine of British colonialism and travelled from Japan to Ceylon and from Nepal to Singapore. He was put under surveillance by police and intelligence services and tried for sedition. He faked his own death. Despite becoming a celebrity across Asia and founding many projects, this early Buddhist activist was written out of history and remained forgotten for nearly a century.
This vagabond Irishman could very well be the missing link in the origin story of Western Buddhism.
Who do we have to thank for this discovery? Prof Alicia Turner (York University, Toronto, Canada) discovered evidence of an event that happened in Burma, Dr Laurence Cox (National University of Ireland, Maynooth) found evidence in Ireland, while Prof Brian Bocking (University College Cork) realized they were talking about the same person and brought them together. The trio have been working since 2009, piecing together this man's life with their meticulous detective work.
Filmmaker Ian Lawton has been granted full co-operation from the team in order to document this amazing man's life. Since no footage of Dhammaloka exists, Lawton's past as an animator, in collaboration with acclaimed animator Paul Bolger ('The Thief & The Cobbler', 'Cool Word') of Pillarstone Productions will help realize these forgotten moments of history through traditional hand drawn animation, giving this project an air of sophistication this man's legacy truly deserves.
The score will be composed by Choice Music Prize nominee Mumblin' Deaf Ro.
The campaign begins on Tuesday 28th October and finishes Saturday December 6th.
Campaign Page: www.dana.io/thedharmabum
Press Pack: http://bit.do/DBum_press