Irishman Laurence Carroll was first westerner to be ordained Buddhist monk
The Irish Examiner, January 5, 2016
The first westerner to be ordained a Buddhist monk also became a hero in Asia for his anti-imperialist campaigning. He was an Irishman - and yet we've never heard of him. John Daly met the filmmaker who is going to rectify that
Dublin, Ireland -- LAURENCE Carroll led a colourful life, in every sense. A 19th century Dubliner born with wanderlust in his bones, he became an alcoholic hobo and free thinker who travelled the world by steam ship and cattle car, only to eventually transform himself into U Dhammaloka - the world's first westerner to don the saffron robes of an ordained Buddhist monk.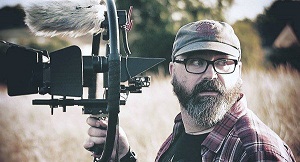 << Filmmaker Ian Lawton was 'gobsmacked' when he first heard of Irishman Laurence Carroll
A hero to millions for his outspoken political stance against the yoke of colonialism across Asia during the late 1800s, Carroll's extraordinary life story is all the more remarkable for being virtually unknown until relatively recently.
Born around 1850, he spent much of his youth in a transitory existence as a "tramp, shepherd, truckman and tally clerk" across the Europe and the USA, before signing on as a stevedore on a steamer bound for China.
Forced to disembark in Rangoon for 'disorderly conduct', he eventually pitched up at a remote monastery within the depths of Burma's forests, where he closed the door on his dissolute past to train in ancient Buddhist practices, emerging seven years later as the first fully-ordained western Buddhist monk.
Far from observing the peaceful image of the Buddhist calling, however, Laurence Carroll then dedicated his life to a political activism that set him on a collision course against the Catholic Church and rigid British Colonial rule, both of which were then firmly rooted across Southeast Asia.
A heroic figure who drew thousands to his fiery speeches promoting education and independence across Siam, Cambodia, Malaya, Ceylon and Nepal, he became an enigmatic Robin Hood of the oppressed.
"When I first stumbled upon this story, I was gobsmacked," explains filmmaker Ian Lawton.
"Not just by the fact that this was an amazing story, but that I was only finding out about it today. I felt this man should be a household name alongside other notable Irish historical figures like Oscar Wilde, Michael Collins or Daniel O'Connell. He certainly is a great Irish hero, but one that nobody outside academia knows about."
The discovery of Laurence Carroll's incredible life resulted from a painstaking five years of collaborative academic detective work by Dr Laurence Cox, professor of Sociology at NUI Maynooth; Alicia Turner of York University, Toronto; and Professor Brian Bocking of University College Cork.
Shortly after his ordination, a notice appeared in a Burmese newspaper warning all Christian missionaries not to distribute religious tracts or sell bibles in the province of Burma, signed by order of U Dhammaloka, the Bishop of Rangoon. It was an audacious beginning to a life devoted to fighting the cause of the underdog.
"He was put on trial for saying that the British had taken Burma from the Burmese and now desired to trample on their religion. He found that a strong defence of local religion could tweak the nose of the powers that be, and became immensely popular for doing so."
Carroll travelled constantly, touring rural Burma and the towns of Ceylon, setting up schools in Singapore and Bangkok, networking in Japan and teaching in Nepal.
"We find him running up against the authorities time and again, a lifelong habit of his," says Lawton. "His personality emerged by turns as charming, frustrating, witty and grandiose, he was evidently a great storyteller and a courageous and resourceful individual."
BLANK CHAPTER
Intriguingly, a full 26 years of Carroll's life before 1900 remain unaccounted for: "He was under constant police and intelligence surveillance, tried for sedition and faked his own death before disappearing as mysteriously as he had appeared."He was perhaps just too olourful to remember comfortably, and later generations quietly forgot this story," Cox concludes.
Carroll was also famous not just for speeches denouncing Christian missionaries and European colonialism, but also proving that his background was no barrier to Buddhism, adds UCC's Professor Bocking.
"The most important thing for us in learning about Dhammaloka is that he opens up a whole world of early Western Buddhists who were not respectable types but who came out of an imperial underclass that was interested in religion."
Ian Lawton is currently crowdfunding his film, and sees the project as a tale about meticulous academic detective work, and a remarkable Irishman who time is long overdue.
"Considering he travelled in a time before passports and was constantly changing his name, and the fact that most evidence has been wiped out by two world wars and other contributing factors, it is a remarkable achievement and ought to be celebrated. This was a man who faced down colonialism and Christian missionaries - a man who stood up to the British empire and paid the ultimate price."
Though only one grainy photograph exists of Carroll, and precious little of his writings, Lawton sees much of his Irish birthright apparent in his personality."He certainly did have a sense of humour and a sharp wit. The fact that he once offered 15,000 rupees in a newspaper article to anyone who could show him a virgin mother is evidence of how funny he was. I'd say he enjoyed his celebrity and used it to his advantage," he adds.
Carroll must be reinstated for a new generation a century after his death, he believes.
"To me, he is up there with Martin Luther King and Lenny Bruce, people who had the passion and drive to stand up for what they believed in, no matter what the odds."
USING ANIMATION
Given the lack of footage of Carroll, the filmmaker intends to realise several scenes through animation. "The bulk of the narrative will be derived from interviews with the core research team, with additional commentary from other notable figures in the field of Buddhism and world history."
Lawton's funding goal is a modest €15,000 through crowdfunding. This allows him to help raise awareness for a film that's still in the pipeline.
"This is a sign of the times. We are living in an era where this kind of pre-selling is becoming more and more necessary for small independent productions these days. Building an audience prior to principal photography is becoming increasingly important for a movies survival."
He sees the film as having a universal appeal.
"I don't see it as specifically a 'Buddhist' film, nor a film with merit only for history buffs. This is a story of one man's triumph over adversity. A hero's journey.
"A man standing up to the might of the British empire, yet ultimately failing by being written out of their history, erased from existence by a superpower. This film will be his ultimate victory."