Biopic on Xuanzang to release simultaenously in India and China
Press Trust of India, January 12, 2016
A USD 22 million budget, has been completed but its release may take some time after clearances by Chinese official bodies. The film was made in Chinese and will be released simultaneously in both the countries. The Hindi dubbed version will be released in India
New Delhi, India -- A mega Sino-India historic biopic on the life and times of famous Chinese Buddhist Monk Xuanzang, who brought Buddhism from India to China is ready for release.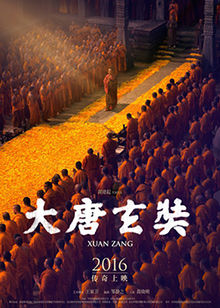 The film, made with a USD 22 million budget, has been completed but its release may take some time after clearances by Chinese official bodies, Prasad Shetty, partner of Strategic Alliance, a Chinese firm promoting Indian films told PTI in Beijing on January 12.
Earlier, officials said it may be released next month coinciding with the Chinese New Year. But Mr Shetty said it could be released sometime in May this year. The film was made in Chinese and will be released simultaneously in both the countries. The Hindi dubbed version will be released in India.
Chinese actor Huang Xiaoming played the lead role of the famous monk who brought important Buddhist scriptures from India to China.
The agreement for the co-production of the film was signed during Prime Minister Narendra Modi's visit to China in May last year. It was jointly produced on the life and times of Zang's 17-year-long journey to India in the sixth century.
Part of the film was shot in Maharashtra and Nalanda in Bihar, tracing the areas traversed by the monk in the seventh century. The other two India-China co-productions include Kung Fu Yoga, by Hong Kong-based director Stanley Tong and comedy film Lost in India, featuring the star from China's 2012 blockbuster Lost in Thailand. These two films are expected to be released this year.