'Groundhog Day,' the Buddhist lifehacker movie
By David G. Allan, CNN, Feb 2, 2016
"It's not true that life is one damn thing after another -- it's one damn thing over and over." -- Edna St. Vincent Millay
Baltimore, MA (USA) -- I've seen the 1993 film "Groundhog Day" again and again and again, but only once on the big screen, a few years after it was in theaters.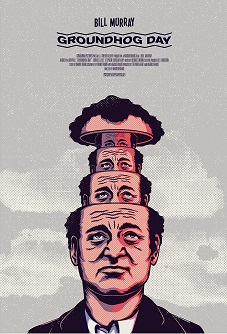 It was shown in a packed lecture hall inside Baltimore's Walters Art Museum, followed by a lecture from a comparative religion scholar who took us through the spiritual meaning and symbolism cleverly packaged in what, on its surface, is a rom-com with a "Twilight Zone" premise.
Even if you haven't seen the film you still know the basic plot because the term "Groundhog Day" has entered the common vernacular -- which alone speaks to its resonance beyond the film itself -- as shorthand for repeating the same experience over and over.
But it's worth seeing, for the first time or the 10th, to witness the main character -- self-centered weatherman Phil Connors (a role only Bill Murray could master) -- breaking that cycle through personal redemption. It's a grand metaphor some scholars see as Buddhist, Christian or secularly philosophical. It's also directly, practically applicable to how you spend your day today, and everyday.
I think the film is best described as "Buddish," an adjective coined by the film's director, Harold Ramis, to sum up his own belief system. His mother-in-law and one of his best friends were devout Zen Buddhists who hooked him onto its precepts. "Memorable, simple, didn't require articles of faith, but completely humanistic in every way that I valued," he said in an interview for Chicago magazine in 2008. "So I proselytize it without practicing it."
And what an entertaining Buddish proselytization "Groundhog Day" is. Like sushi or a Jamba Juice shake, it's so delicious you barely realize you're eating raw fish and fruit. That's the reason for this metaphysical movie's enduring cult status: a genuinely hilarious film that glimpses the meaning of life.
There are many theories about Phil's temporal loop (which by one estimate lasted nearly 34 years) and his eventual escape. One sees it as a metaphor for psychotherapy: repeating the stories of one's past until you have a breakthrough that allows you to dismantle old patterns. Another claims it illustrates a classic economic paradigm.
But the most wisdom-invoking evidence amounts to religious insight and how to most fruitfully spend our precious hours.
'Groundhog Day' is all about karma
One of the central tenets of Buddhism is that we must continue to reincarnate until we find enlightenment. The concept, called samsara, keeps us living out many lives through "various modes of existence" (called gati), some lowly animals and others god-like, as determined by your actions (karma). Once ignorance and ego are destroyed by your actions and awareness, you awaken to the true, interconnected reality, which frees you from the cycle and into heavenly nirvana.
In the film -- written by Danny Rubin, a Zen Buddhist, according to Ramis' DVD commentary of the film -- Phil reincarnates each day, but he also transforms his behavior over "time." He takes self-centered advantage of his unique predicament -- robbing bank trucks, stuffing his face with angel food cake, tricking a woman into bed -- but eventually perfects the day with creative self-improvement tasks and compassionately helping others. Once he becomes the best possible version of Phil Connors, he is released from his temporal prison, while simultaneously winning the love of his virtuous producer, Rita.
Phil's plight is not unlike a character from Greek mythology who was doomed to eternally and perpetually push a boulder up a mountain. In his essay "The Myth of Sisyphus," Albert Camus uses the story to illustrate the absurdity of lives that toil away at meaningless jobs. But Camus says we must find hope, and therefore meaning, in such a plight and he imagines Sisyphus understanding and accepting it.
There's a similar Buddhist tale of an enlightened monk who climbs a mountain to get a spoonful of snow in order to fill a well at the bottom of the mountain, again and again. Some lessons take a long and seemingly futile amount of time to learn. Buddhist monasticism is itself "Groundhog"-like with the same routine, clothes and daily rituals -- for decades of practice.
Yet every moment is still different. Remember what the ancient Greek philosopher Heraclitus said: "No man ever steps in the same river twice, for it's not the same river and he's not the same man." In that sense, Phil doesn't repeat the same day over and over because one significant thing is different each Groundhog Day: him. He is the one thing that is changing.
What is time anyway? Illusory, says Buddhist dogma, a notion contained in the Zen koan Phil asks as he begins to understand that his own time is not progressing: "What if there is no tomorrow? There wasn't one today."
That's right, woodchuck-chuckers, there is no past or future. There is only now.