THIS Buddhist Film Festival (THIS) 2016 coming this September
The Buddhist Channel, July 31, 2016
Singapore -- THIS Buddhist Film Festival (THIS) 2016 will once again grace the silver screens in Singapore from September 17, 2016.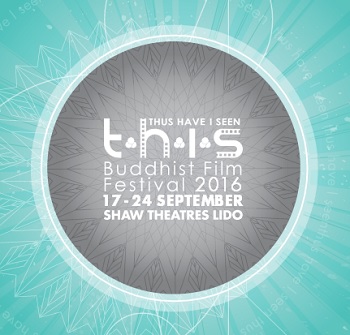 The fourth THIS Buddhist Film Festival returns with 17 original, thought-provoking films from eight countries, including China, France, Switzerland, Thailand and the US. 16 of the films will be screening for the first time in Singapore.
A highlight of the film festival is the premier of "Samsara", a non-verbal, non-narrative documentary from filmakers Ron Fricke and Mark Magodson.
The film explores the wonders of our world from the mundane to the miraculous, looking into the unfathomable reaches of man's spirituality and the human experience. Through powerful images photographed entirely in 70mm film, Samsara illuminates the links between humanity and the rest of nature, showing how our life cycles mirror the rhythm of the planet.
All shows will be held at Shaw Theatres Lido. Tickets are $12 each (excluding SISTIC charges). Available through SISTIC website: www.sistic.com.sg, hotline +65 6348 5555 and Authorised Agents islandwide.
About THIS
THIS Buddhist Film Festival (THIS) is organised by Dharma in Action, a signature biennial event that aims to promote awareness of the Buddha's timeless Teachings and the diversity of Buddhism through specially curated films that reflect the cultural, social and religious aspects of this world religion.
Playing on the oft-cited verse "Thus have I heard" recited by Venerable Ananda at the start of many Buddhist sutras, THIS Buddhist Film Festival hopes to achieve a similar effect amongst the audience as they discuss Buddhist Teachings, philosophy, way of life and reflect within themselves.
About Dharma In Action Limited (DIA)
Dharma In Action Limited (DIA) is a Company Limited by Guarantee officially incorporated in Singapore. Our mission is to present cultural and educational programmes rooted in Buddhist values and philosophies to the local community. We aspire to provide a dynamic platform for exchanges of ideas and cultivation of friendship to promote a society of compassion and wisdom.
DIA activities are organised mainly by volunteers from all walks of life and various age groups. The THIS Buddhist Film Festival is our signature biennial event. We are always looking to develop new events and look forward to suggestions from our supporters.
For more information about DIA, please visit www.dharmainaction.net
More info on THIS, please visit: http://www.thisfilmfest.com