Wheel of Time
Film Review, Movie Written and directed by Werner Herzog, June 15 through 28, Film Forum
Between balloon (The White Diamond) and bear (Grizzly Man) comes Buddhism, in this season's transfixing trifecta of Werner Herzog docs. Wheel of Time focuses on the details of two Buddhist events in 2002?an enormous conclave in India (around the spot where Siddhartha subarboreally became the Buddha) that draws half a million of the faithful, and a much smaller gathering in Austria later that year. These twin points of contact provide a visceral glimpse of the events' rituals (mandala making) and more mundane necessities (soup lines), while elegantly setting up a space for contemplation.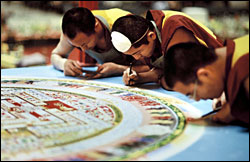 In India we see seas of monks; pilgrims en route by truck, foot, or body (hurling themselves to the ground, getting up, genuflecting, ad infinitum); the sick rubbing their backs against a column supposedly blessed with healing powers; and a monk defending his dissertation on the nature of reality?a lively debate full of forceful palm smacking that stretches into the evening.
Thumbnail portraits stand out: One monk, from a region of Mongolia so remote that it requires two translators to his dialect, has belly flopped his way to Bodh Gaya, a three-and-a-half-year undertaking that created odd bone spurs and a forehead wound that won't heal. In Austria, a wizened Tibetan jailed by the Chinese for over three decades, able to see the Dalai Lama for the first time, has a minor crisis: Wearing eyeglasses is considered disrespectful, but the former prisoner is blind without them. Patient and fascinated, but never succumbing to abstraction, Wheel of Time can be seen as the middle installment of a trilogy against nature.