Spiritual Film Festival debuts in Hailey
By DANA DUGAN, Idaho Mountain Express Staff Writer, July 1, 2005
Boise, Idaho -- Unless you've been on the moon for the past several months, you may be aware that His Holiness the Dalai Lama will be visiting the Wood River Valley, Friday, Sept. 9, through Monday, Sept. 12. Because of his visit, folks are thinking about other spiritual tie-ins.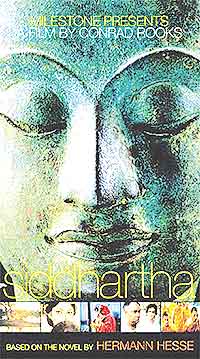 << Siddharta, The Movie (1972)
Just announced is the formation of the Sun Valley Spiritual Film Festival. Festival founders Mary Gervase and Claudio Ruben are booking several noteworthy films that will be shown concurrently with the Dalai Lama's visit, from Friday, Sept. 9 through Monday, Sept. 12, at the Liberty Theatre in and the Community Campus theater, both in Hailey.
The festival will focus on films that explore themes relevant to the Buddhist tradition. They were chosen to compliment the Dalai Lama's message of compassion and reconciliation.
The wish list of films that will be screened includes "The Cup" by Indian director Khyentse Norbu, which takes place in a monastery during the World Cup soccer finals. The other films are "Discovering Buddhism," a series of 13 short documentaries, the Canadian film "Words of My Perfect Teachers," Australian film "On the Road Home," the 1972 movie "Siddhartha," "Ethics for the New Millenium," featuring the Dalai Lama, and the Tibetan film "Cry of the Snow Lion."
Festival organizers are seeking donations for financial support. They've already received a generous donation but still need more in order to fund the total cost of the event.
For more information, contact Bex Wilkinson at bex@aol.com or Mary Ann Chub at m80@cox.net.