Spiritual Film Festival launches
By DANA DUGAN, Idaho Mountain Express Staff Writer, Sept 7, 2005
Sun Valley, Idaho (USA) -- The planned visit by His Holiness the Dalai Lama, Friday, Sept. 9, through Tuesday, Sept. 13, has opened doors for others to breach. From visits by Buddhist teachers of yoga, to talks on dharma teachings, to the inaugural Sun Valley Spiritual Film Festival, the week's activities seem especially synergistic.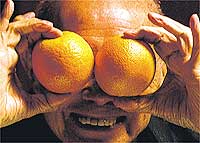 << Kim Chan in "Zen Noir," showing Saturday in Sun Valley.
The festival is screening specially chosen films focusing on themes relevant to the Buddhist tradition at both the Liberty Theatre in Hailey and the Sun Valley Opera House in Sun Valley.
The multinational film festival was founded by Mary Gervase of Hailey and Claudio Ruben of Santa Fe.
"We tried to have movies from a lot of different countries," Ruben, a film producer, said. "We've been quite fortunate."
Indeed they have. The 16 movies are a mix of documentaries and features from around the globe.
German director Doris Dorrie's comedy "Enlightenment Guaranteed" is about two German brothers, who head to Japan in search of the Zen experience. It's a sequel to one of Dorrie's biggest hit films, "Man."
The Dutch-made "My Life is My Message" looks at Vietnamese Zen teacher Thich Nhat Hahn as he discusses peace with Israelis and Palestinians staying at his retreat center in France. As well, it looks at his address to the U.S. Congress in 2003 on the second anniversary of 9/11.
"Making of a Monk" provides its audience with a quick synopsis of Buddhist history, and an inside look at what it is like for a young man to become a Buddhist monk in Thailand.
The Korean film "Spring, Summer, Fall, Winter ... and Spring" was directed by Ki-duk Kim, who also stars as a troubled monk. Filmed at a remote and picturesque mountain lake in a South Korean wilderness preserve, it concentrates on the relationship between a Buddhist monk and his protégé.
"The Cup," by Indian director Khyentse Norbu Rinpoche, takes place in a monastery during the World Cup soccer finals. Funny, engaging and warm, the film provides the audience with a realistic look into what life is like in a Tibetan Buddhist monastery. It is being screened on the afternoon following the Dalai Lama's presentation to the children of Hailey. As a companion piece, the movie "Words of My Perfect Teacher" was made by one of Khyentse Norbu Rinpoche's students. It was filmed on location in Bhutan, Britain and Germany.
"Discovering Buddhism" was produced by Lama Zopa Rinpoche's Foundation for the Preservation of Mahayana Tradition Buddhism. This is a series of 13 short documentaries on different aspects of Buddhism and its practices. The documentaries are narrated by either Richard Gere or Keanu Reeves, and are a great way for people to learn about Buddhism.
"Chasing Buddha," an Australian documentary from young Melbourne filmmaker Amiel Courtin-Wilson, is guaranteed to shake any preconceptions about the religious life, asceticism or Buddhist nuns. It's a portrait of former feminist and street drifter Robina Courtin, a Buddhist nun who lives in New York where she runs a Buddhist publishing enterprise with the energy of a bullet train.
"On the Road Home" is a documentary about a young American woman's search for the feminine face of God on a pilgrimage through Tibet, Nepal, India and the United States.
"Ethics for the New Millenium," produced by Hailey resident and journalist Karen Day, is a filmed performance of the Dalai Lama's presentation at the Royal Albert Hall in London.
"Princess of Another World" is a documentary about a Chinese woman who at the age of 13 decided to leave her home to live in Chengdu, where she decides to become a Buddhist nun.
Directed by Chicago theater director Marc Rosenbush, "Zen Noir" is a murder mystery set in a Zen Buddhist Monastery. The detective investigating the death of an abbot ends up also investigating the mystery of life and death. It stars Kim Chan.
Rosenbush will be at the screening, 9 p.m. Saturday, Sept. 10, at the Sun Valley Opera House.
Other documentaries are "Buddha's Painter," about a Mongolian master Thangka painter. "Varja Sky Over Tibet," the first documentary officially endorsed by the Dalai Lama, is about a pilgrimage to Central Tibet.
"Escape Across the Himalayas" covers the opposite trek. The German-made documentary follows the mountainous journey of Tibetan children to India. And the documentary "Buddha as a Book" is about a monk who has spent his life restoring lost Tibetan texts that were destroyed by the Chinese.
Tickets for the movies are $5 each and will be available a half-hour before each screening.