Shaolin monks take movies into their own hands
AFP/de, Sept 12, 2005
BEIJING, China -- Monks at China's famous Shaolin Temple know they are good with kung fu but now they will see how good they are with the camera, as they try their lightning hands at a movie and TV series, state media said on Sunday.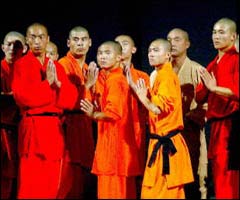 << Shaolin monks
The plan is part of the Shaolin Temple's increasing unwillingness to let others make money from their world-renowned martial arts fame.
Many films and TV shows have been shot based on the 1,500-year-old Temple, but this time the Temple has decided to play a big part in filming on its own, the Xinhua news agency cited temple sources saying.
Shaolin Cultural Broadcast Company, set up by the Temple, said the new film and TV series, both named "Legends of Monk Warriors from Shaolin Temple," will be based on a true story about their martial-art monks, according to Xinhua.
Shi Yongxin, the Temple's abbot, will be the chief producer.
Unlike the Shaolin films produced before, this time the Temple made the final decision in theme selection, script writing and the description of Zen, a sect of Buddhism, Xinhua said.
Another new twist is that a group of Shaolin monks will play roles in the film.
The company said it would join with well-known film studios from home and abroad to shoot the film, inviting world-class filmmakers and movie stars to join in the 200 million yuan (US$24.7 million) production, Xinhua said.
Shooting is scheduled to start in the second half of 2006. The film is scheduled to be shown globally in early 2008, the company said.
The picture will be the first movie in a planned three-film series. The latter two films were respectively called "Kungfu Legends of Shaolin Temple" and "Rebirth of Shaolin Temple from Flames."
Script writing for the first two pictures has already been finished, Xinhua said.
All three films, according to the company, have their own 40-part TV series. The three series will cost about 100 million yuan (about US$12.3 million) to produce, according to the company.
Earlier this year, the Temple appealed to the national legislature for trademark protection. - AFP/de