Sundance Film Festival: Directors took risks making films about Buddhism
by Dan Nailen, Salt Lake Tribune, January 23, 2006
'Giant Buddhas' and 'Angry Monk' documentaries filmed in dangerous locations
Los Angeles, USA -- Almost every documentary filmmaker shares the travails of raising money and finding distribution for their movies.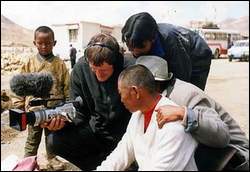 << Luc Schaedler gathers footage for his film "Angry Monk" in Tibet. He and his crew posed as "video-crazy tourists" to go around the Chinese government in telling the story of the rebellious Tibetan monk Gendun Choephel.
Those hurdles are nothing, though, compared with the lengths to which two Swiss directors went to make their respective films premiering at the Sundance Film Festival this year.
Christian Frei, director of "The Giant Buddhas," and Luc Schaedler, director of "Angry Monk - Reflections on Tibet," had to deal with tribal Afghan "warlords," tight-lipped Chinese government officials and arrests to get their respective films finished.
Michael Moore ambushing American politicians on the streets of Washington, D.C., looks like child's play compared to what these guys did.
Frei's film uses the Taliban's destruction of the giant Buddha statues in the Bamiyan valley of Afghanistan as a jumping-off point for an intriguing treatise on the significance of the statues to the Buddhist religion and to look at other giant Buddhas built along the Silk Road trading from China to India.
Frei downplays the danger of his four trips to the Bamiyan valley, noting that other areas of Afghanistan where the Taliban still rule are far more deadly. The trips helped Frei establish relationships with people like Sayyed Mirza Hussain, a cave dweller from Bamiyan and one of the few eyewitnesses to the Taliban's destruction of the Buddhas, and eventually the local religious leader who could assure his safety as he filmed in the area.
"It's a tribal system, but if you have direct contact with the one in charge, which is normally the religious leader, then you are really protected from them," Frei said. "It is a matter of honor in this system that you are safe, and that there is no damage to your gear. We were protected by these soldiers (of the local religious leader). But you better not ask what all these people were doing during the war. It's very ugly."
Schaedler's film tells the story of Gendun Choephel, a rebellious Tibetan Buddhist monk in the early 1900s who questioned his country's conservative religious climate and insular political attitudes. He traveled through Tibet, Sri Lanka and India in an effort to better understand the history of his homeland, becoming a threat to both Tibet's religious elite and the conquering Chinese government in the process.
As Frei's film traces the journey of a 7th-century Buddhist monk, Xuanzang, along the Silk Road through Asia, Schaedler's film tracks Gendun Choephel's travels. Posing as "video-crazy tourists," Schaedler, a cameraman and a translator made their way through Tibet under the nose of curious Chinese officials.
"I didn't deal with the Chinese government because I knew that with this kind of political topic regarding Tibet, they wouldn't give me permission to shoot in Tibet, so I never bothered to get permission from the start," Schaedler said. "We acted as tourists, basically, and this way, we never faced any problems with the Chinese or Tibetan authorities, although we knew we were being watched."
Schaedler's three-man crew was arrested in India, though, for filming a huge bridge in Calcutta, a no-no for security reasons.
"When we were at the police station, we actually exchanged the tape," Schaedler said. "I took the tape the footage was on and my cameraman put a new one in the camera. In the end, we found out the police commissioner was very interested in the kind of independent documentary stuff we were doing, so it was no problem at all."
Frei did go through official Chinese channels to film at the Buddhist monasteries in China and locations along the Silk Road, and while the people he dealt with were "very kind," they did cramp his style somewhat. "You have a lot of 'officials,' let's say, with you," Frei said. "I remember one day . . . I had six functionaries, officials, with me. I'm shooting with my cinematographer, and it's just the two of us, that's it! We were never allowed to step off the bus [alone]. One of the officials was responsible for the Communist Party for religious questions, which isn't really helpful when you want to [do] interviews with the monks."