Tracing Hiuen Tsang's steps, fourteen centuries later
by AMITAV RANJAN, The Indian Express, April 17, 2006
China's CCTV plans documentary on his journey to India via Central Asia, Afghanistan & Pakistan
NEW DELHI, India -- Following the footprints of Hiuen Tsang, a Chinese contingent of over 40 people will traverse the forbidden terrain of Central Asia to recreate the great monk's arduous journey from Xian to India through Uzbekistan, Afghanistan and Pakistan.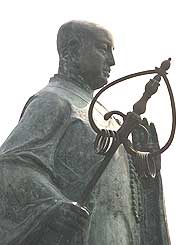 << Xuan Zang devoted his entire life to learning Indian approaches to Buddhism and spreading Chinese culture
However, unlike Hiuen Tsang who travelled on foot, the voyage by actors and historians along the Silk Route would be on cars and trucks to revisit and film the 7th century traveller's prolific accounts in a documentary Along the Footprints of Hsuan Chuang.
Filmed by Chinese Central TV, the documentary is one of the programmes planned for the China-India Friendship Year 2006 and is aimed at increasing cultural exchanges between the two nations.
"Thanks to his (Hiuen's) hard work, Buddhism widely spread in China and made a great contribution to the cultural exchanges between the two peoples. To carry forward this glorious tradition, the Ministry of Foreign Affairs and Ministry of Culture have authorised CCTV to produce the documentary," says a letter from Sun Yuxi, ambassador at large, Chinese Embassy, to the Ministry of External Affairs.
The embassy has sought permission for an 8-member advance team of CCTV that will arrive next week for preparatory work at the Buddhist temples and monasteries that Hiuen Tsang visited during his 14-year stay in India. It also wants the states concerned, Bihar and Uttar Pradesh, to provide "necessary security assistance and permits for TV shooting, free of charge, at the relevant temples and museums" to the television crew.
The Chinese delegation will attend the inaugural ceremony of the Hiuen Tsang Memorial at Nalanda in Bihar on November 20. The monk studied Buddhism at Nalanda University and translated religious scriptures in Pali into Chinese to propagate the religion in his country.