Documentary on Malaysia's Chief Monk to premier at Wesak International Film Festival (WIFF)
The Buddhist Channel, May 14, 2006
Kuala Lumpur, -- For more than half a century, K Sri Dhammananda has been a leading light in disseminating Buddhism in Malaysia. Although there are different schools of Buddhism practiced in this country, such is his deep impact on the community that he is affectionately known by all as Chief Venerable, or just "Chief".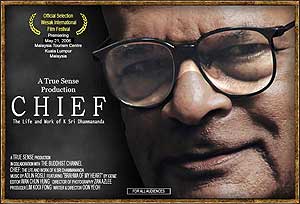 To commemorate his remarkable achievement, a documentary on the Venerable's life has been produced by new media house True Sense. The film will be premiered at the forthcoming Wesak International Film Festival (WIFF).
The short film offers a glimpse of Chief, not just as a highly respected senior monk, but as someone with very human qualities – humane, humorous and always caring for the well-being of others.

It starts off with Chief talking how he became a monk at the age of 12 and the challenges that come with leading a religious life at such an early age. He recollects his early days in Malaya and how he overcame early resistance to his teachings.
---
Official Website: http://www.bodhivision.net/chief
---
Two key innovations that Chief introduced were teachings in English and back-to-the-basics approach to Buddhism. Before his arrival in this country, Buddhism was largely taught in Chinese and the practices were mainly devotional in nature, mixed up with Taoism and other traditional Chinese rituals. Chief made it possible for English-speaking Malaysians to learn about the original teachings of the Buddha.

The documentary also showcase the Venerable's work to foster inter-religious harmony and he shares some light moments with us on the correct attitude to adopt towards other religions.

With very few Sangha members in this country, the future of Buddhism lies in the hands of the lay people, particularly, the youth. Chief has placed strong emphasis, especially on students. His efforts have paid off as much of the Buddhist activities organised in the country are managed by young Malaysians.

The film ends with Chief sharing his views on the right perspective of Buddhism and giving some very simple instructions on how to lead a Buddhistic way of life.
-----------------------------------------------------------------------------
Chief: The Life and Work of K Sri Dhammananda
Premiering at WIFF on Sunday, May 21, 2006 (10.45 am). Subsequent showings on Saturday, May 27, 2006 (10.00 am) and Sunday, May 28, 2006 (10.24 am). All screening times at Dewan Tunku Abdul Rahman, Malaysia Tourism Centre, Kuala Lumpur . Hall Capacity - 400)
Produced by: True Sense
Ratings: For All Audiences
Runtime: 23 min
Country:
Language: English
Color: Color