New Dalai Lama DVD Release Delivers Life & Enlightenment
Hannover House, September 7, 2006
Los Angeles, CA (USA) -- The Dalai Lama, legendary Buddhist teacher and exiled leader of Tibet, is one of twelve spiritual leaders featured in a new DVD release entitled "On Life & Enlightenment: Principles of Buddhism with His Holiness, The Dalai Lama," now available from Hannover House. This three disc set covers all major aspects of Tibetan culture, philosophy and Buddhism as well as commentary from actor Richard Gere and original music from Indian recording star Rahul Sharma.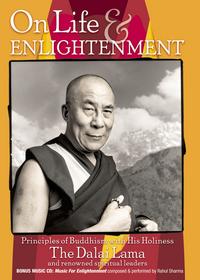 "On Life and Enlightenment" explores Tibetan Vajrayana Buddhism in all its various manifestations. Over the past thousand years, the Tibetans have crystallized the ideas of non-duality and realized the pathways of the mind. They developed techniques and rituals, each of which was designed to bring the adept closer to the spiritual heights held as the ideal. In these troubled times of worldwide political, economic and philosophical struggles, the principles featured on this DVD series appeal to many seeking spiritual enlightenment.
"This film series inspires reflection, beauty and prayer. They lead us deeper into the mysteries and wonders of true spirituality," said Deepak Chopra, best selling author and spiritual leader. "It is rich with color, meaning and truth," he concluded.
"We're honored to be handling the prestigious release of the Dalai Lama's first authorized DVD series," said Eric Parkinson, President of Hannover House. "We are working with many key retailers, catalogs and on-line sellers to make this item as accessible as reasonably possible."
"On Life & Enlightenment" was written by Nando Rau, directed by Kaushik Ray and produced by Neil Prashad and Jon Talarico for Toscano Trading, Inc. The item features two DVD discs and one audio CD containing approximately five hours of video programming and 45 minutes of music. In addition to the Dalai Lama, other featured leaders and teachers in the program include H.E 12th Tai Situ Rimpoche (Regent to the 17th Karmapa), H.E. Drubwang Penor Rimpoceh (Head of Nyingmapa Sect), H.E. Sakya Trizin Rimpoche (Head of Sakya Sect), H.E. Menri Trizin Rimpoche (Head of Bonpo Sect), Anila Tenzin Palmo (British Nun), Ngagspa Karma (Tantric Adept) and Tulky Anjam (Incarnate Lama).
Item Number 3333 / UPC 7-61450-33333-8 / Distributed by Hannover House, 1722 N. College Ave., Fayetteville, AR 72703. For Review Copies or more information contact Eric Parkinson at 818-481-5277 or EParkinson@HannoverHouse.com.