A weekend to change your life
By TONY EVANS, Idaho Mountain Express, Sept 6, 2006
Sun Valley Spiritual Film Festival founders ponder event
Sun Valley, Idaho (USA) -- Mary Gervase and Claudio Ruben go back a long way."Perhaps many lifetimes," Ruben said with a chuckle during a short break from the hectic job of organizing the second annual Sun Valley Spiritual Film Festival. Having viewed 140 films in preparation for this year's festival, films that explore a broad selection of the world's spiritual traditions, perhaps anything seems possible.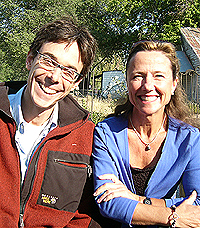 << Claudio Ruben and Mary Gervase
Gervase is a teacher, counselor and administrator, serving as the assistant superintendent of Blaine County Schools. She met Claudio Ruben in 1993 in Santa Fe, where Ruben was working as a ski instructor. Originally from Milan, Italy, Ruben continues to live and work in Santa Fe, coordinating production for TV commercials and serving as assistant director for the Thubten Norbu Ling Buddhist Center. With shared interests centering around film making and spirituality (Gervase is a student of Aikido) these two friends networked for years in the hope of putting together a multi-faceted film festival, one that would celebrate the world's spiritual traditions and cherish the human spirit. In 2005 the perfect opportunity presented itself in the Wood River Valley.
"Mary called me in Santa Fe and said, 'The Dalai Lama is coming to town. I think this might be the right time and place,'" Ruben reca;;ed. "I already had a business plan and some films in mind."
Gervase wrote a letter to Kiril Sokoloff, the sponsor of the Dalai Lama's visit, suggesting that he involve Blaine County school children in the visit, and "would he mind if we were to screen some films while His Holiness was in town?"
Sokoloff agreed, and The Sun Valley Spiritual Film Festival was born under most auspicious circumstances. This year, Sokoloff made a generous contribution of his own to the festival organization to help insure its continuation.
"The funds will go to support theater rentals, speaker expenses, printing costs and other expenses," said Gervase. "This was a real vote of confidence."
"We previewed about 25 films for the first festival," said Ruben. "Some we were familiar with, others we found on the Web. Others fell into our hands magically."
"Vajra Sky Over Tibet" was one of the magical events of that year, a special preview screening of John Bush's remarkable tour of the remaining holy sites in Tibet. It was the first documentary ever officially sanctioned by His Holiness the Dalai Lama. The screening of "Vajra Sky" along with the current line up of remarkable speakers and screenings for 2006 may help to establish the Sun Valley Spiritual Film Festival in years to come as a convergence point for leading thinkers, writers and filmmakers dealing with themes of spirituality in the media. Gervase and Ruben know it won't happen all at once.
"We rode on the coat tails of the Dalai Lama the first year," says Ruben. "This year we are on our own."
The fascinating program Gervase and Ruben have put together for this year's festival shows that they may have what it takes to pull it off. Even while holding down full-time jobs, they have managed to organize a stimulating program of speakers, spiritual cinema, and juried awards, which provide a topical survey of the sacred and the mystical from around the world.
"We see The Spiritual Film Festival is an opportunity to be exposed to various spiritual traditions around the globe and to learn to appreciate them," said Ruben, who was recently struck by the similarities within his own Tibetan Buddhist practice and those of the fundamentalist Pentecostals, which he learned about while previewing a documentary.
"Underneath the labels, we are all human beings."
Among the film festivals from which Gervase and Ruben watch for ideas are: Parabola Magazine's Cinema of the Spirit; The International Buddhist Film Festival; God on Film, from New York City; and The World Spiritual Film Festival, from Goa, India.
"There are others, which focus on particular traditions," said Ruben. "Jewish festivals, LDS festivals, Christian festivals. Our own criteria are based on bringing as much diversity as possible. We also refuse to screen anything that denigrates a particular tradition. And then there are the elements of quality filmmaking we look for, like production values, cinematography, good story-telling."
Gervase added: "We are putting together a patch-work quilt. We hope that the festival comes together as a full experience, and as a gift to the community."
With speakers like Dr. Nathan Katz, the founder of The Center for the Study of Spirituality at Florida International University, and other noted authors and filmmakers, the festival should shed light on what the word "spirituality" means in today's society.
"Katz's story is amazing," said Ruben. "He came full circle from Judaism, to being a practicing Sufi Dervish, to a Tibetan Buddhist yogi, and then back to his own Jewish tradition."
Katz will speak on "Globalization and Spirituality" at the film festival.
Another film, which Ruben and Gervase have high regard for, is "Mind Games." It follows Dr. Tim French as he succumbs to Lou Gherig's disease.
"This is a story about the resilience of the human spirit," said Gervase. "The love affair between French and his wife challenges our traditional views about relationships."
"You don't walk away from this kind of movie complaining about the camera angles," said Ruben "You walk away saying, 'How can I change my life?'"